Yacht Haven Marina was a hurricane smashed wreck when we last visited.It is now "Yacht Haven Grande" It has been completely rebuilt by International Global Yachting (IGY) and is designed as a playground for the true yachties. Although it is still set amidst the projects, the impressive fence keeps the bad guys out and the good guys in. Some clever soul made a shortcut to the cruise ship dock through the name brand stores and they may get more foot traffic that way. The docks are all enormous and completely set up for megayachts but they have retained the dinghy dock which cruisers are still allowed to use. Music is piped in amongst the extensive folliage.
St. Thomas is aswarm with cruise ships and mass tourism facilities. You can get all the comforts of home and all the air conditioning and icewater you might want. On the other hand, they drive on the left (in right hand drive cars) and underneath the Walmartized exterior, it is still the West Indies. Our introduction to St. Thomas was witnessing a loud altercation between two drivers, front bumper to front bumper, beeping, swearing and yelling at each other because neither would back up to make way. This is a rather dramatic contrast to the BVI where people would routinely stop their car in the middle of the main road to chat with friends and no one would even give a polite beep of the horn to urge them out of the way.
We stayed in Honeymoon Bay for a couple of days. You can dinghy to Crown Bay marina and from there walk to a Pueblo market, an Ace hardware or just to the chandlery on the premises. Fuel and water available. We were pleased to find Offshore Marine right in front of the Cruise ship dock at this end of the bay which actually stocks parts for the Yamaha outboard we have. They also have their own dinghy dock. The next bay over has a propane depot. You can dinghy up to it, pay the reasonable charge and get your propane filled while you wait. This is the funky end of the bay down past the sunken tugs and barges, past the power generating plant and up to the propane depot. Way cool. No tourists and all a short dinghy ride from your own little palm lined beach.
Most of the cruisers stay in Charlotte Amalie. Its a huge bay and it is quite amusing watching the cruise ships coming in the morning and departing in the evening. Anchor a little bit out in deeper water to avoid the considerable noise of the traffic on shore. Quaint little shopping district and lots of old buildings. No taxes and so 2008 was the second time an underwater camera followed us home from the store.
Benner Bay has lots of marine services but, if things are working, go on towards Christmas Cove for a truely relaxing sojourn. Great St. James Island has been sold and there is construction going on on the outside (windward) but Christmas Cove is unchanged. Still patrolled by turtles. Still excellent snorkeling.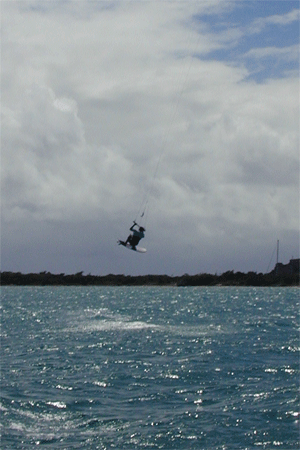 Kite surfer, St. Thomas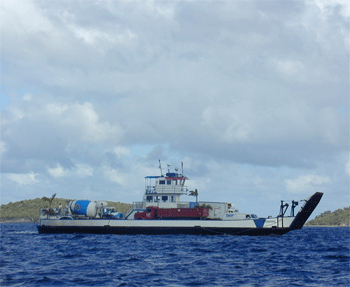 St. Thomas to St. John ferry with palm tree decoration
The main cruiser anchorage has been in Charlotte Amalie in front of the wreckage of Yacht Haven. Yacht Haven is rebuilt now snf operated by IGY. It is never completely clear to me if ordinary cruisers are really welcome. This is a great location and we must all be as helpful and polite as possible to preserve access to this dinghy dock..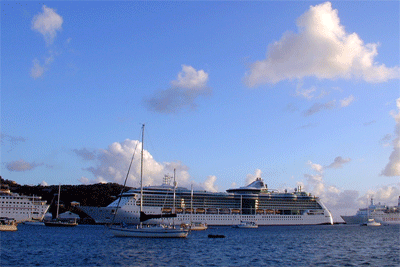 Cruise ship Dock, Charlotte Amalie, St. Thomas, USVI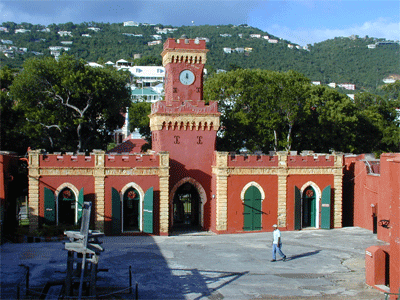 Danish Fort, St. Thomas, USVI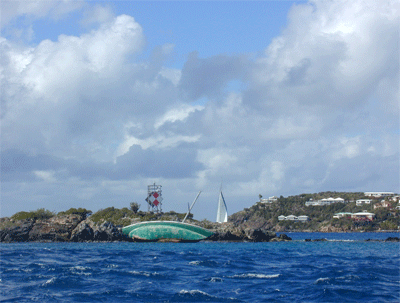 Current Cut near Christmas Island, St. Thomas, USVI. The center channel marker was meant to indicate you can go either way around the little island in the middle.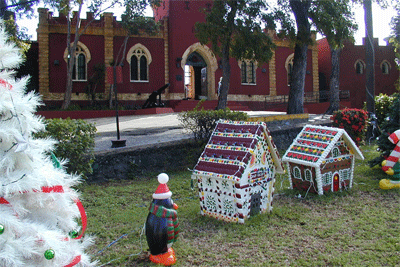 Christmas time at the Danish fort, St. Thomas, USVI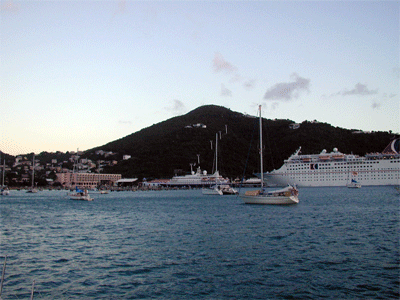 Yacht Haven wreckage at cruise ship dock in Charlotte Amalia, St. Thomas USVI