News 30/05/2012
The English speaking islands of the Eastern Caribbean have largely adopted eSeaClear for on-line checkins. You open an account with eSeaClear and it will hold your boat and passenger information in the database. You perform an actual clearance on-line adding only the information that has changed. The system issues you a number that you take into the Customs offices along with the original of the papers. Quick and Easy- but some of the charm is missing.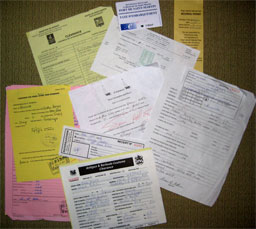 Paper chase for cruisers
As you wander between the various islands of the Caribbean, you are often crossing national boundaries. When you move your boat into a new country you must "clear in" with the authorities of that country. This usually involves showing passports, ships documents and filling out some forms. The exact nature of the process, the office hours, the charges and the forms change constantly and are the bane of the cruising guide authors. We bought Eaux Vives in the British Virgin Islands and and got introduced to the process traveling between the US and the British Virgin Islands. The charges for cruising in the BVI ranged from a low of $.75 to $6.00. Hours ranged from "When he come in on the ferry" to the strict observance of holidays you have never heard of. The best advice was given to us in the government building in Road Town, Tortola by a passer by. We asked a "Belonger" where customs was and the advice came with the answer: "around the corner; don't ask any questions." Customs agents have a great deal of power over you for a very short period of time. They deal with a great number of people who don't think any rules apply to them and people who feel that a bureaucrat of a little island nation has no right to interrupt their holiday. Lose this attitude right away. They have both the right and the power to ruin your holiday. We have never had any serious problems with customs and immigration. We arrive clean shaven, polite, ask no questions and pay any fees with a smile.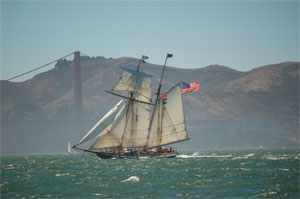 Large flag on a large boat
Your vessel should be equipped with a national flag (not the "fouled anchor" ensign) flying at the stern which should be large enough to suit the boat. Suitable is about 1" of length of flag for each 1' of length of boat. Your boat's name and hailing port should be clearly printed on the hull in large (4") characters. As you enter the national waters of a new island country, you should raise the courtesy flag of the nation you are visiting from the starboard spreader. Until you are cleared in, you should also have a yellow "Q" flag flying below the courtesy flag. Yacht Club flags, pirate flags, cruising association flags or the national flags of yourself and your guests may be flown from the port spreader but should not be raised over the courtesy flag. We have actually had a customs officer look. The yellow "Q" flag shows you are requesting "practique" and are in quarantine. In some places this means that no one but the captain goes ashore and that no business other than the clearance will be done until clearance is granted. When clearance is granted, you remove the yellow flag and fly only the courtesy flag from the starboard spreader.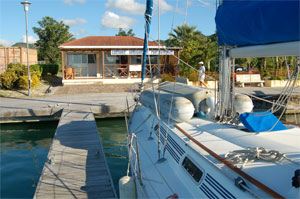 Occasionally all authorities are located in one spot
There may be from 0 to 4 offices you are required to visit. Customs is responsible for items you might owe duty on or even be smuggling. Immigration is responsible for the people entering the country and they will want to see your passports and may ask you to fill out forms like those when you enter by air. The port authority may well be empowered to collect fees for a cruising permit. There may be a agricultural inspection (as in the US) to prevent the spread of diseased plants or animals. In some places you are required to "clear out" and the outbound clearance will be requested at the next stop. Keep your boat documentation, passports, clearances, crew lists, cruising permits, fishing permits, receipts and any other scraps of paper officials give you in a nice, orderly, official-looking binder. We also store a supply of carbon paper (still in use in some islands) and a pen with black ink. The lack of either can substantially lengthen the process.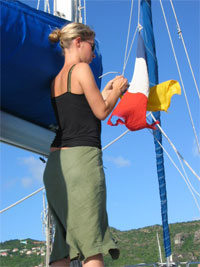 Our flag officer hoists the French and Q Flag to starboard spreader
What follows is a brief overview (with anecdotes) of procedures in the Eastern Caribbean. The general outline of these procedures has remained fairly constant during the last 5 years with some bizarre, temporary, largely unworkable and largely ignored interludes. The first was a brief attempt to institute a common, on-line check-in procedure for the Anglophone countries of Caricom during the cricket world cup. The second was an American inspired attempt to get on-line "advanced information" of your intended arrival no more (and no less) than 24 hours before your actual arrival. These things tend to give way to the reality of small wind driven boats and the value of their commerce to small nations with little more to sell on a world market than white beaches, clear water and regular trade winds.
The Bahamas and the Turks and Caicos have cruising fees which are quite substantial if you are just passing through but reasonable if you are spending a season there. Puerto Rico is an American commonwealth and an American documented vessel must phone in their documentation and passport numbers to an office. No check out is required. The USVI is in a somewhat looser zone of protection and US documented vessels with no foreign crew are not required to check in at all. If you are a foreigner, you must get visas before you enter the country which for your purposes is considered part of the USA. If you enter the USVI or Puerto Rico without US visas, you will be sent home to get them. Even if you just crossed the ocean in a slow boat. The BVI has a system of charges which we never decoded and some officers that are less than warmly welcoming. The office in Road Town is probably more officious due to its proximity to the government house. We have found that attitudes are a little more laid back in Jost van Dyke but that the office (in Great Harbor) may not be open when you think it should be. Do not skip customs in the BVI. It is well patrolled and well equipped to catch and fine you. If you intend to use the parks (the Indians, the Baths) buy a permit. You will probably be checked. Do not fish without a fishing license. They have recently floated substantial cruising fees of $.50/ft/day and occasionally impose huge fines for non-compliance. Most of the time things seem reasonable if you are. These fees will probably not last.
Saint Martin/Sint Maarten shares a huge lagoon and an airport. If you are in the French waters, you will be treated very professionally by a courteous and friendly staff. If you are on the Dutch side, not so much. They have limited hours, a merry paper chase and unfathomable rules. If you are anchored on the French side of the lagoon or in Marigot, you check in with the French. By treaty, they let you through the Dutch Bridge and do not impede your progress to France. If you have guests coming in at the airport, they must know which side you are anchored on for their entry procedures. Speaking of France, Martinique has generous open hours ('tout le jour, Madam') and will let you fill in the forms at a dinghy accessible internet cafe's or chandleries which are deputized for the purpose. During the bird flue scare, they did resurrect a health form from the 18th century asking (among other things):
How many rats we had on board?
Has there been an unusual die off of rats?
How many coffins are we carrying?
How many bodies have we disposed of at sea?

The last time we were in, these details (bagatelle) were no longer required.
Guadeloupe is very formal, with visits to the police station required. The forms are faxed to Pointe 'a Pitre (at your expense) and you must return for your approvals. St. Barths is quite upscale and your port fees include free wireless and an incredible, glossy magazine mostly filled with ads for jewelry, expensive clothes and homes but also including the harbor rules. My personal favorite is the rule regarding acceptable hours of operation for your helicopter. Not an onerous restriction on Eaux Vives. This is also the only island that reliably looks at your boat and checks against lists of admitted boats. In fact, the French are the only ones who seem to have anything resembling actual security. We have been given the courteous and professional once over while underway along both Guadeloupe and Martinique.
Dominica wins the prize for most charmingly antiquated forms. We are "in ballast" when visiting and have not delivered any post to the island. We are carrying "ships stores" Dominicans are rightly proud of their beautiful, lush island. If you are immune to its charms, keep your thoughts to yourself. St. Vincent and the Grenadines and Grenada are tied for second in this category. Antigua keeps annoyingly capricious hours in Jolly Harbor and an error can involve a taxi to English harbor to repair. They are very strict and are the only non-French island that ever looked at the boat. Go in without the crew. If you check in in English Harbor, you will have to pay park fees. These fees entitle you to enter Nelson's harbor though and are probably worth it if you spend any time there.