Sign My Guestbook
---
FROM: Sandy and Ray McCoy

Hi, we met you in this past Dec. at Shrimpy's on St. Martin. We own and live aboard "Summer Wind", a Beneteau 461. If you emember, we were gathering advice re' leaving the next day, Dec. 10, for BVI to catch our flight home. That day, we all thought, was our only decent window. We did make it ok but it was pretty harrowing, as by the time we got there the late season named storm Olga was in full force. Then we had an incident at anchor when a container ship hit us. All is ok now, but WOW! I tried to e-mail you but it bounced back. We arrived back in Pgh. June 25, returning to Tortola Jan. 6.
Love to hear from you and hope to meet up again.
---
FROM: Dan Greer

Thanks for your log. The logs of those who are out there living the dream are great solace to those of us who are only dreaming it. I'm a trailer-sailor in Phoenix. My trips are more modest: a week or so in San Diego, or the Sea of Cortez, but great fun nevertheless.
Keep having fun, and thanks again.
Dan
---
FROM: Rory Hansen & Peggy Droesch

Peg & Rory here, you may remember us from the Tradewinds Grenadines charter a few years back -- not to mention Lance had the dubious honor of teaching us in ASA 103! What a pleasure to find your webpage, & congrats on your beautiful new boat!!

We became boat owners ourselves a couple of years ago, we sail a 1983 Catalina 38 out of Brickyard Cove -- mostly daysails & weekends on the hook around the Bay, but who knows where we will end up? The Sea of Cortez sounds pretty nice...

Take care, keep the Caribbean happy, & we will be following your adventures online!

P&R
Windlassie (Catalina 38)
Point Richmond, CA
---
FROM: Andy Cohen
I loved your description of the engine replacement, and found the photos fascinating. I especially enjoyed the image of the French mechanics taking cellphone calls while maneuvering heavy, expensive equipment through other fragile, expensive equipment. I think I finally know the meaning of the word "sangfroid"./p>
---
FROM: Sue Diamond
I am searching for a long lost friend called Chris Calderbank, an Englishman who lives in St Lucia and I came across your site. Chris & I were very close friends as children some 50 years ago and I would love to make contact again. If you could give me a contact that would be great or maybe you could give him my email address suediamond@onetel.com.
My son sails the world aboard yachts and I think he met Chris in St Lucia many years ago.
Happy sailing.
Best wishes
Sue Diamond
---
FROM: wolf and joan moell
Time is passing too quickly and we are getting ready for more summer adventures. We made it to Trinidad and Cat Whiskers is on the hard there. After a short trip to Germany on some family business we'll want to explore the Windward Islands some more starting early May. Maybe we'll see you again.
---
FROM COLIN B NICHOLS
Hi, Lance. Having done a bit of sailing myself, I enjoyed your web page and admired your courage in changing your life style after the dot com problem. One point anout your web page, though: you describe HMS Racoon as a privateer. She wasn't; she was a regular British naval sloop, detached from a squadron sent out to deal with USS Essex and USS Essex Junior. The story is recounted in 'The War of 1812 and the Oregon Country' by Edward L Reidell. Anyway, thanks for your account and the pictures. I just wish there was a picture of the Racoon somewhere...
Kind regards. Keep sailing.
Colin B Nichols cbn7k5bw @googlemail,com
FROM ACCIDENTAL CRUISER
Many thanks for being that interested in my website. I guess the HMS would indicate that the ship was part of the regular British Navy. My sources said that the captain and crew were entitled to a "bounty" as partial incentive for breaking off and taking the arduous trek so far. Privateer, however, is a cheeky slur on Her Majesty and her men and I have removed it from the brief description. Many thanks for the reference - I will follow up with Amazon. I looked all over for a picture of her and may have located a model but decided it was too thin an identification to include. I'd love to see what she looked like. May I add your missive to the reader's section?
Lance
FROM COLIN B NICHOLS
Thanks for you speedy reply and for removing the word 'privateer'. As you probably know, the crews of Royal Navy ships were entitled to 'prize money', based on the value of any enemy ships they captured, provided the latter were saleable. At the battle of Trafalgar, for instance, prize money for a successful captain would have been enough to buy a country estate and would have earned an ordinary seaman a years wages. However, nearly all the prizes were destroyed by the storm of the century and little or no prize money was awarded.
In the case of the Racoon, she was one of a squadron of three Royal Navy ships plus a supply ship. Their mission was to capture or destroy the two US ships I mentioned because they were damaging British whaling in the South Pacific. The Essex and Essex Junior were cornered in Valparaiso and the captain of the Essex decided to beach the two ships rather than have his men killed needlessly. I can not now recall whether the two beached ships were salvaged. Just before the 'battle', however, Racoon was sent to the Canada/US border to settle a dispute about fur trading rights, only to find when she got there that the dispute had been settled. I assume that the 'bounty' was a sort of compensation payment for not being able to take part in the action at Valparaiso (and assuming prize money was awarded there)
There is a happy ending. After the end of hostilities the American captain (whose name I forget) had, I believe, a successful career as an envoy to Britain and other European states. One can only hope that he received a friendlier welcome in that role.
The chance of finding a picture of Racoon is pretty small. Even the National Maritime Museum at Greenwich does not have one
And my interest in Racoon? My GGGgrandfather sailed in her, first as an able bodied seaman in 1808 but then worked his way up to become a lieutenant in 1815. Not bad for a man who was press-ganged into the RN in 1802.
Please feel free to add my missive to your readers section if you wish. And if any of your readers have any information they could add I would be most grateful to receive it, preferably at my main email address - cbn7k5bw @googlemail.com.
Best wishes,
Colin
---
FROM HANS AND ROSIE BREUER:
Hello, dear Susie and Lance,
we enjoy your website very much, indeed.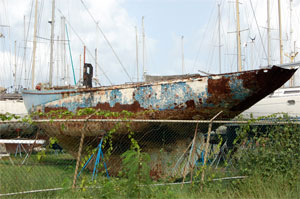 Kajen in Rodney Bay Boatyard
We were also "fair weather sailors" and lived aboard our 58' sloop, Kajen, for five years ending up for the last 2 1/2 years in the Caribbean. St. Lucia was our base, too, especially Marigot Bay, which we often had all to ourselves. Yes that's right, no hotels, no charter company - it was in the years 1974 - 76!
I have now started to write an account of those five years for our sons, who were very young, then.
The Kessel family, who lived for many years on their boat in Castries, bought our yacht as they intended to return to Australia in her. He was a mechanic and she a school teacher, he used to sail from one island to the other to service the church clocks and other things.
Do you know them or could you find out what has happened to them? I wonder whether 'Kajen' is still sailing somewhere. She was a steel beauty built in 1949 by a Dutch shipyard owner for himself (a De Vries-Lentsch design and no costs spared). I was hoping to find her among the beautiful vessels of the Classic yacht regatta.
FROM ACCIDENTAL CRUISER
Mygo is now quite a circus. There was a big development and the inner lagoon has been converted to a mooring field. St. Lucia is developing very fast.
Chris Kessel is a boat surveyor here and was raised on a boat in Castries. I'm sure he is the son of your Kessel family. I will probably see him and ask him about what became of Kajen and his family.

Many thanks for your kind words.

Lance
FROM CHRIS KESSEL:
Hi Lance,
Damn talk about dredging up the past LOL!
My parents owned and lived aboard 'Kajen' for probably 12 years, I lived aboard with my parents for 9 years, so there are lots of memories. My parents decided to move back to Australia in 1989 and sold her to a Englishman named Christopher Calderbank. At the time the boat was run down (didn't have me to work on it LOL) and needed a fair amount of work.
Calderbank started off with good intensions and stripped out the interior to sand blast the bilges and to rebuild everything but unfortunately he had personal problems leading to getting divorced and along with a nervous break down, ruined things for him in St. Lucia. Consequently he left the island.
After that the boat was abandoned in the boat yard and after several years was launched by Ian Cowan due to non payment and was tied up against the concrete wall between the work dock and the office. She eventually sank and settled into the mud and when the management of the yard was changed, it was decided that she was too much of an eye sore and they raised her and hauled the hulk out again!
You have probably walked past her many times. She is the old steel hulk in the dry dock nearer the road, totally rusted out and probably beyond being rebuilt unfortunately.
When I am next in the yard I will take a couple of pics and e-mail them to the Bruers.
Best regards,
Chris
---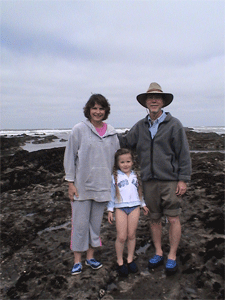 Hello Lance,

Remember me from Sun Microsystems?
I would usually start out a letter like this with how are you, but I can see from your photo album that you're doing just GREAT!
Wow, it seems like you have the right work/vacation mix going. I love to sail and my wife Lynette is a sailor too, but with all this work who has the time? Boy will I show this web site to Lynette....... gets one to thinking.
I'd love to touch base with you and talk about your current adventures.
I'm doing fine -- still doing project management work, but it's getting a bit old. I guess for that matter so am I, and Lynette and I are thinking about trying to get into another business. Gee, it sure would be nice to be on a sailboat in the islands somewhere. Hmm..
Craig.
---
Folks,
I stumbled across your site while looking at ads in Latitude 38, and just wanted to tell you how much I enjoyed it!
Being a life-long sailor, I find your comments so realistic! I built my first boat in Alameda High woodshop in 1962, and have been on the water as much as possible since. I just sold my CT41 "Pelican" to some fine folks (it's in the Berkeley Marina on L dock) , and me without a boat is like a cowboy without a horse! So, I'm perusing the ads, thinking about what to do with myself for the next few years.
Thanks for a wonderful site!
Aloha, Jim
---
Lance and Susie,
Hello again .....if you will recall I had sent you an email back in Jan. of this year as I had stumbled upon your web site and was very entertained with reading your journal and viewing your photos of your sailing adventures. I 'll admit I did check back often too see where you were and to again enjoy your stories and photos throughout this seasons sailing.
I was wondering how your season ended after your last entry and it was quite the surprise when I was on vacation last week in St Lucia traveling in a shuttle from one Sandals Property to another when I spotted your Sailboat. I yelled out to my wife like spotting a celebrity "Theres the Eaux Vives!" Many heads turned on the shuttle bus it was funny.
I told the friends we were with of your stories and adventures and why I was familiar with your boat.I thought you might enjoy a picture or two so enjoy, these were taken on July 24th. our last day before we flew home.
Thanks again,
Regards,
Jean-Jacques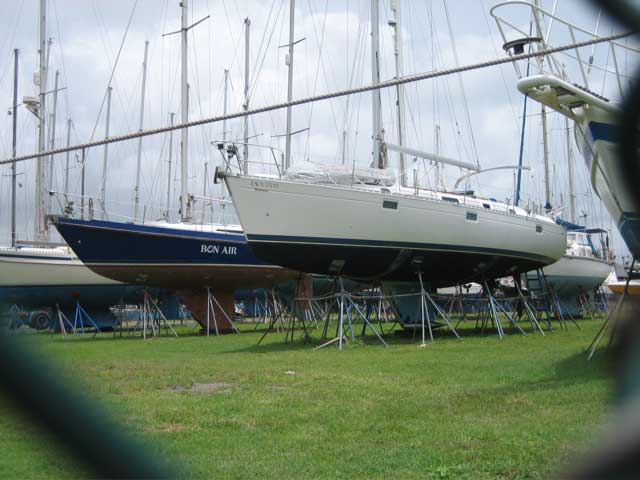 ---
Dear Lance and Susie,
Cannot exactly recall how or where we found your website but I saved it and have just finished the two day read of the entire journal. I loved it and hope my Susie will get to it sooner than later. She is a bit concerned about the live aboard concept and your journal has such a positive feel I believe it will help overcome her apprehensions. We sail about four weeks a year now so this is a big step for her.
May the warm wind at your back not be your own,
Guy and Susie Auxer
---
1/11/2005: Happened to stumble on your website while doing research on Montserrat after just visiting there last week. I ended up spending over an hour viewing your wonderful pictures. I don't sail but I wonder if its not to late to join in the fun.....it looks like you are having some most memorable moments. Stay safe and thanks for sharing.

Regards
Jean-Jacques

---
12/31/2004:

Dear Susie and Lance,

Hi, my name is Gail. My husband, Jeff, and I are sailing on our boat 'Sea Witch'. We are currently on the hard in Trinidad doing a refit and we have flown to the states for the holidays.

Last May we took a tour with Martin in Prince Rupert Bay, Dominica and I took some pictures I would like to send to him. Of course I forgot to bring the mailing information with me to the states. After searching the web for an address or way to contact him I found his picture on your web site.

I'm hoping you might have an address or the Chris Doyle cruising guide. It would be terrific if you could forward an adddress to me. I would love to get these pics in the mail to Martin.

Thanks for your help. Maybe we'll see you out there

Cheers

Gail
---
2/10/03: Susie,Glad to see so many pictures with the hat we gave you for Christmas.May it continue to serve you well. If you let Lance borrow it, make sure to tether it to his shirt! -- Bob Batten

---
1/13/03: You guys look very good and happy!! But still, I'm going to wish you a good & blessed year 2003! Keep going!
Love, max (Maxim May)

---