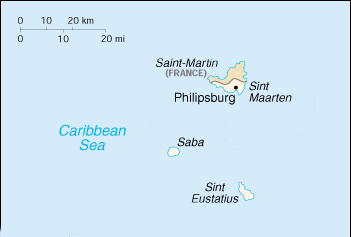 Map of the Netherlands Antilles"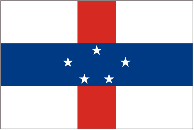 Flag of the Netherlands Antilles
The three islands of Sint Maartin, Saba and St Eustatius are the northern end of the Netherlands Antilles. The Dutch also hang on to two islands off of Venezuela: Bonaire and Curacao. We passed Saba in conditions that did not permit landing but truly enjoyed the historical island of St. Eustatius (known familiarly as Statia). There is really only one anchorage and it can be rolly but the land tours make all worth while. Statia is well described in "The First Salute" and must have been quite a place back in the day. This is where George Washington bought armaments and Ben Franklin got the US Mail through the British blockade. Statia is about 5 miles long and 2 miles wide and was a free port at the time of our revolution known as the "golden rock". The island has a population of approximately 2900 and is located latitude 17.00, longitude 63.04) about 38 miles southwest of Sint Maartin.
Entertainment: viewing the ruins of the lower town, climbing the slave road to upper town Oranjistad and viewing the fort. Climbing the volcano "the Quill" is highly recommended.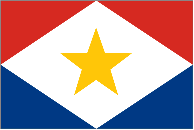 Saba has its own flag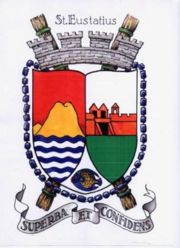 The coat of arms features:
the Quill vulcano,
entrance to Fort Oranje and
an angel fish