News from St. Kitts/Nevis 2/22/08
Nevis has installed a huge number of moorings. The charge is not high: depending on the boat length and length of stay it might be as much as $10US/night. You are no longer allowed to anchor anywhere other than this mooring field which runs from Oalie Beach, through Pinney's Beach to the north edge of Charlestown. They are not assigned, you must go into the Port Authority office to pay for the moorings. It is conveniently located in the yellow building right near Customs and just to the north of the dock.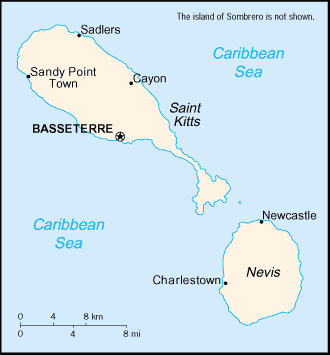 Map of St. Kitts and Nevis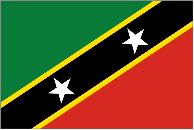 Flag of St. Kitts & Nevis
St. Kitts and Nevis is a two island country with a population of about 41,000. The language is English and this is the first country going south in the chain in which you use the Eastern Caribbean dollar (fondly known as the EC). As the saying goes: "EC come, EC go." There is a tremendous history and some very rural living which makes this an exotic destination. Nevis, in particular, has some great old plantations converted to B&B's. We particularly enjoyed anchoring off the northern western corner of Nevis and in the bays on the southern part of St. Kitts. Nevis and Saint Kitts have very different feels to them our first impressions are recorded here. On our last visit, I really came to love the serenity of Nevis compared to St. Kitts. Understandable since that visit coincided with the world cup cricket match which, in turn, coincided with a prison riot.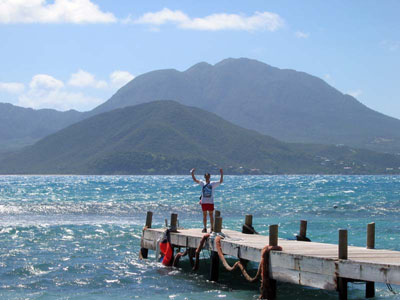 View of Nevis from St. Kitts
We had a great land tour of St. Kitts this year from Junie Taxi. The fort at Brimstone Hill is very impressive and we loved the Botanical Garden at Romney Manor. There we also purchased items from Caribelle Batik which is located on the premises. Susie got a great sarong with turtle motif. Recommended. St. Kitts has some beautiful anchorages at the southern end. We watched a full lunar eclipse from White House Bay and had good snorkeling on the reef between there and Ballast Bay. Visit quickly, it is a proposed marina development. You can always hide from the big winds in Majors Bay. Enjoy the solitude: you will be lined up in a boat parking lot when you get to Nevis.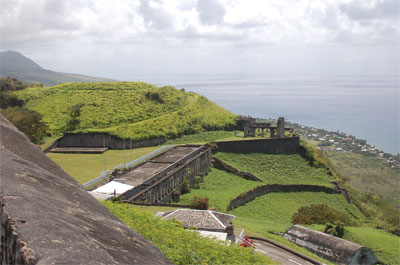 Part of the British Fort at Brimstone Hill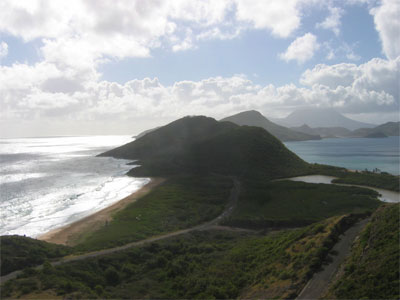 View of southern St. Kitts. Atlantic left, Caribbean right. Nevis behind