News from St. John
Jan 2008
The mooring system has gotten rationalized a bit. Moorings are $15US/night and are mandatory on St. John. They are paid for by putting money into little boxes located somewhere in the anchorage. The most difficult landing places have had boxes put out afloat as at Maho Bay and Leinster Bay. The "greeters" take down your boat name each night you stay. The Park Service then collates those lists with the boat names on the envelopes. If you don't turn up on the latter list, your name is mud and they become unpleasant. Keep good records.
Most of St. John was protected from environmental degradation by the Rockefeller family who latter donated it to the United States government as a national park. It therefore has some of the most spectacular snorkeling locations in the Caribbean. Huge fish, clear water vibrant living coral. There has been a huge building boom of fancy homes in the remaining private areas and St. John is no longer quite as sleepy as it once was. There are several excellent Eco-tourism resorts on St. John. Lameshure bay has Virgin Islands Environmental Research Station which rents tent cabins. Maho Bay has a little more upscale and very cruiser friendly resort close to the BVI in the Maho/Francis Bay area. These eco-resorts usually feature tent cabins, dining hall style meals and solar water heaters. Caneel Bay, opposite St. Thomas, is fancier still but they don't want you there and the anchorage is notoriously rolly. Our favorite anchorage, Lameshure Bay, features excellent hiking trails and they alone are worth the price of admission.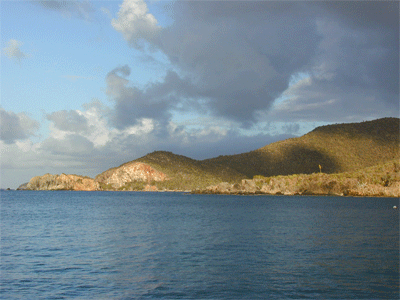 Sunrise at Lameshure bay. VIERS and excellent snorkeling here.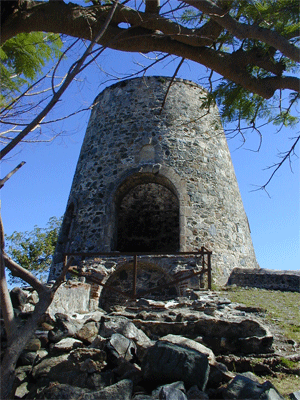 Sugar Mill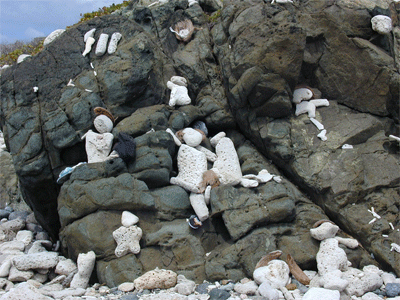 Wierd beach art on St. John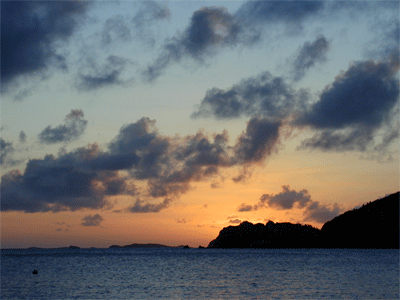 Sunset at Lameshure Bay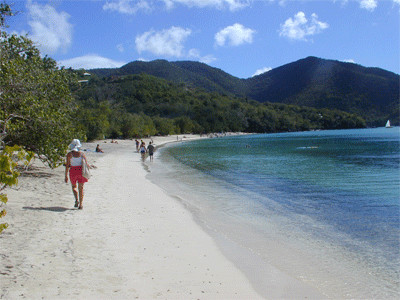 Beach at Francis Bay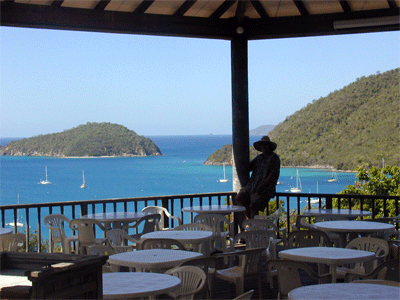 View from the restaurant at Maho Camp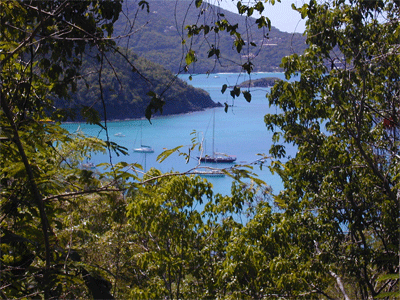 Eaux Vives from Maho Camp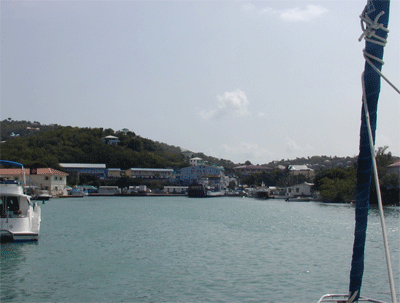 Entering Cruz Bay. Customs at left, Ferry dock straight ahead.