Click on an anchor for further information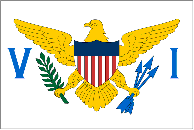 Flag of the U.S. Virgin Islands
The US Virgin Islands have belonged to the United States since being purchased from Denmark as part of a long forgotten strategic initiative. As a resident of Coral Bay told me "it belongs to the US, but it sure aint part of America." This is not just a reference to the fact that driving is on the left and many of the buildings look transplanted from Copenhagen. It is a reference to the somewhat different way of life and the colorful characters who abound. In some ways, the people are stuck in a painful place partway between the Caribbean and American culture. American tourists can find their favorite burger chain. Eco-tourists can find pristine beaches and protected reefs. Cruiseship passengers can get their T-shirts.
The principal islands are:
Saint Thomas, the commercial and cruise ship hub of the USVI.
St. John, largely a protected national park.
Saint Croix , which lies somewhat forgotten to the south and is home to a large refinery.
St. John is largely covered by the park and remains absolutely beautiful with spectacular snorkeling and many fine anchorages.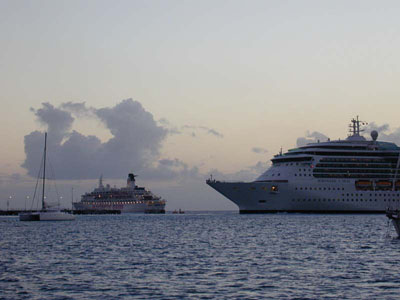 Cruise ships manouvering in St. Thomas, USVI