Click on an anchor for further information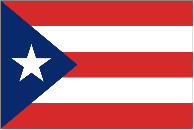 Flag of Puerto Rico
Puerto Rico is a commonwealth of the United States and most people are bilingual in English and Spanish. You may well change planes in San Juan when you visit the Eastern Caribbean. If so, allow some time for a visit. Old San Juan is beautiful and lively - we stumbled on a great street fair in the old coblestone streets and it was a reasonable taxi ride from the airport. If you are coming by boat, the cruiser hangout is Culebra. In that case, you leave your boat in Culebra and take the ferry in to Fajardo on the big island. There you can rent a car inexpensively and visit the rainforest of El Yunque as well as provision. The facilities at Fajardo are spectacular if you've been cruising a while. Cheap groceries, plastic stuff and all the little sundries you take for granted at home are all available here. Laundromats which actually clean your clothes and fresh water for free. US style chandleries and fairly cheap buses (publicos) and rental cars with which to get around are all readily available.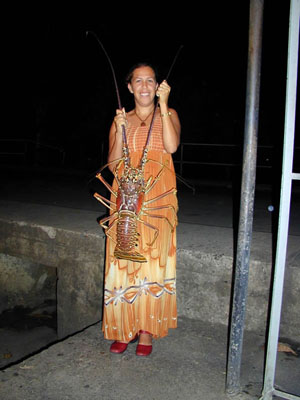 El Batey waitress with lobster
In 2003, we first cruised the "Spanish Virgins" which is the marketing name for the islands to the east,: Culebra and Vieques, plus some smaller out islands. It was our first real experience of the cruising community (well away from the bare boat charters) and we made friends there that we are still in contact with.. A wonderful place to cruise in any season, allow plenty of time, there's lots to see.
The only issue that keeps us from just moving in to PR permanently is the fact that the sailing is mostly dead downwind or beating to windward.