How the other .0001% Lives
or
Folkways of the rich and famous
---
Superyachts in Paradise.
A great number of super yachts are still left hanging around Antigua after the "Superyacht Cup" held in December right after the Antigua Charter Yacht Meeting. We counted 17 red aircraft warning lights in Falmouth Harbor the our first night. Red lights are only placed at the top of the very tallest masts to warn low flying aircraft of the obstruction. During the day, the superyachts are recognizable by counting spreaders. 5 spreaders and you're in. These boats are big: three masted Maltese Falcon is 88m and the sloop Mirabella V is 75m. The motor yachts are even bigger; Le Grande Bleu is 114 meters and is powered by two 3,600-hp Wärtsilä engines.
In some ways, we are all the same...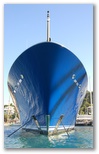 We were struck by the similarities between humble "Eaux Vives" (which is looking humbler the longer we stay) and our somewhat more affluent neighbors. For example, we both have to keep the topsides clean and waxed. The dinghy and all our boat toys always need cleaning and maintenance.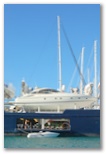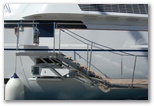 We must keep after our guests to keep their shoes off the deck.
We have been known to get carried away when racing.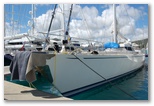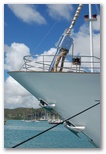 Finding boat parts can be a hassle.
We are always looking at bigger boats.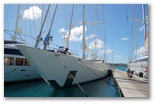 .
But in some respects, the rich are not like you and me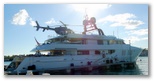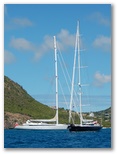 In other ways, our lives are somewhat different. Steven Spielberg and Tom Hanks did not visit Eaux Vives. When we leave the harbor, no one sounds their horns.
We never worry about the noise of our helicopter landing or the possibility of the rotors hitting the satellite dome. Bunkering fuel does not empty the fuel dock (nor entail expenses exceeding the national budget of small countries).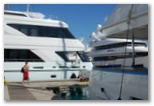 Parking is easy to find. Managing the crew is relatively easy and the owners and guests are easy to get along with.
Most importantly, we allow no suffering on Eaux Vives...