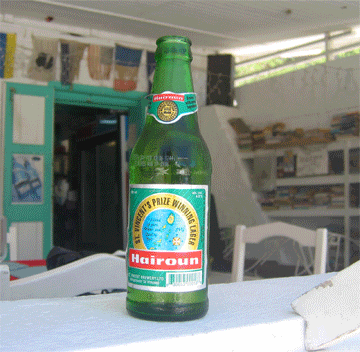 Hairoun, "Our Island, our Beer"



Click on an anchor for further information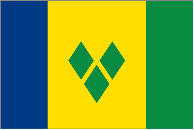 Flag of SVG
Saint Vincent and the Grenadines are an independent archipeligo of islands and is probably the second most common place to charter in the Island chain (the first is the British Virgins).
Going south from St. Lucia we usually run downwind straight to charming Bequia. Further south, Mustique is an island of British and Rock 'n Roll Royalty and worth a stop if you are willing to pay the manditory mooriing fee. We usually go for a couple of days snorkeling behind the reef surrounding Tobago Cays. Either before or after your Tobago Cays stay, visit Mayreau. A very small island with a lovely church and a few restaurants, Mayreau has a picture perfect, palm lined anchorage at Salt Whistle Bay. Unfortunately it is always packed with charter boats. Try Saline Bay. Funky Union Island at either Clifton for customs and shopping or Chatham Bay for tranquility. It also has a customs station if you are going on to Grenada. A nice stop at Petite St. Vincent and a dinner at Palm Beach on PM makes the southern most mark. Going back north progress is a little slower so we stop in Canoaun (not in the windy Charlestown Bay but further north at Rameau) or just press on to Bequia. From charming Bequia you can ferry over to party HQ at Young Island Cut.on the "mainland". We prefer to take the boat to Petite Byahaut is a small, beautiful bay with limited moorings. A stop in Wallilabou to see the "Pirates of the Caribbean" set (largely gone now) or in Chateaubelair or Cumberland before braving the winds of the compression zone around Souifreir then up to the Pitons in St. Lucia.
The boat boys of St. Vincent and of Union are a little more aggressive and the sailing a bit more boiserous than in the BVI, but the beauty of the place makes it worth while. We have never been seriously bothered by anyone in SVG but always try to spread a little $$$Love around, chearfuily tipping boat boys and buying from vendors whenever it makes sense. We generally do not anchor too close to the beach and never in a completely isolated anchorage. Please make up your own mind and consult the Safety and Security web site before writing off the main island. Take blanket warnings against SVG with a grain of salt. If you are determined to miss the main island and its spectacular land tours, consider passing down the windward side and a straight run from St. Lucia to Bequia. If there is any north in the wind it is a blast.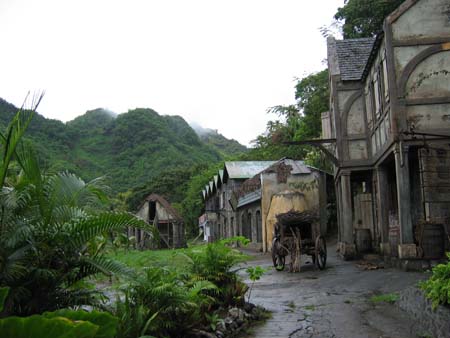 Set of "Pirates of the Caribbean" Wallilabou, SVG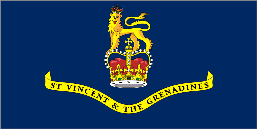 Governor General's flag.