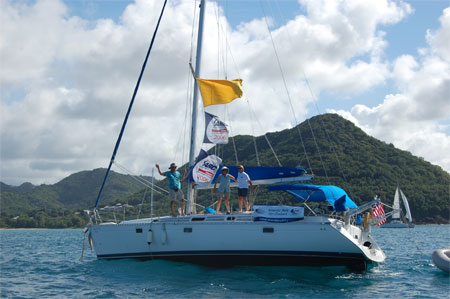 Eaux Vives as ARC Finish
ARC does not (contrary to popular belief) stand for "Amazingly Rich Cruisers" but rather the Atlantic Rally for Cruisers. As in any rally, some sailors take things far to seriously. Most, however, find a sense of humor is just as important as the trade winds for getting a sailboat across the pond. Eaux Vives sees only the finish end in St. Lucia and so proposes the following special, highly non-official awards:
Classiest Finish Award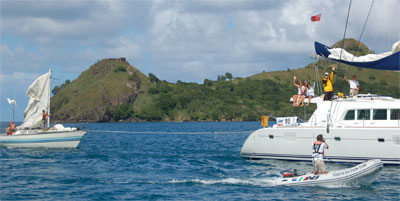 S/V Adeia
Adeia saw a non-ARC boat dismasted while nearing the finish line at Pigeon Island. Stopping and helping to stabilize the boat and then providing them with a tow into the marina, Adeia showed the class of a true cruiser and sailor.
Bristol Finish Award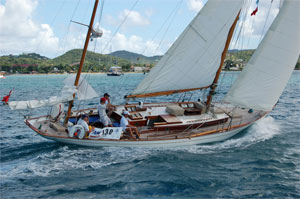 S/V Tomahawk
Tomahawk wins in this category not only for its spit and polish in the finest British yachting tradition but also for eschewing the unseemly whooping, hollering and carrying-on exhibited by other boats. Also, their shorts are still white.
Monty Python Flying Finish Award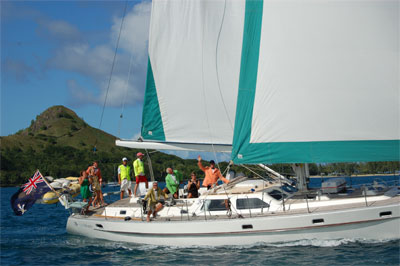 S/V Om Shanti
The only thing that could have improved this finish line crossing would be a juggling act. Or maybe a unicycle. It definitely looked a little like the clown car with ever more people emerging from below.
Bezerkeley Finish Award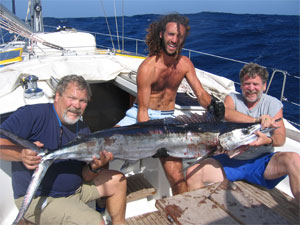 CharMel - Pat Miller, Saro, and Skipper Tom Miller & Marlin
Tom Miller and his crew basically treated the ARC as one long fishing trip. They baffled the German speaking finishing line crew when they radioed in to find out how long after sunrise to wait to cross the finish line so the shore side celebration would be ready as they wanted "the full Monty". The finish line crew were trying to figure out "vat iss Monty" when they started rattling off a prodigious list of fish they had caught on the crossing.
Saro , the fisherman in the middle, made a movie of the trip.