We are sailing from St. Lucia to Martinique. It is a beautiful Caribbean day, winds 15 knots from the east, skies blue, seas that incredible deep blue color. The boat is moving at around 8 knots over water, around 6 over land (current is against us). I (Susie) am at the helm. We are making great time, and are now only a couple of miles out of St. Anne, a beautiful anchorage at the south of Martinique. We plan to anchor in St. Anne, because customs in Le Marin (a mile or so further inland) is closed at 12:30, so we can't check in today, might as well anchor out in St. Anne where the water is cleaner. Lance wants to swim.

Suddenly in front of me is a long orange line in the water, as far as I can see, either direction. I can't dodge it or go around it. I say, "oh shit!". Lance looks up, sees what is up, and looks behind us, orange line is trailing both sides of the boat. We need to slow down, and deal with this, we can't start the engine or we will wind rope all around the prop. I am trying to steer into the wind, and Lance has grabbed the boat hook and is hauling in the mysterious line. But there is so much of it. What is this? I can't keep the boat into the wind, we have to heave to and deal with the problem. Lance is still hauling in more line and one large waterlogged float. This is not a fish pot, this is something that fell or got cut off something. To make things worse, we had a fishing line out and it is also now tangled in the mess. We haul in all the line we can, and then Lance is taking his clothes off.
"No, you can't go in the water! Look at the GPS, we're still going 3 knots!" I say. "Look at the knot log" says Lance, "we're only going .1 knots. We're all drifting together, the boat the line, and me." He gets in with mask and fins and knife, and cuts off lines, unwrapping them from rudder and prop. At this point the cockpit is full of orange polypropelene line, and some green and yellow too. What is this?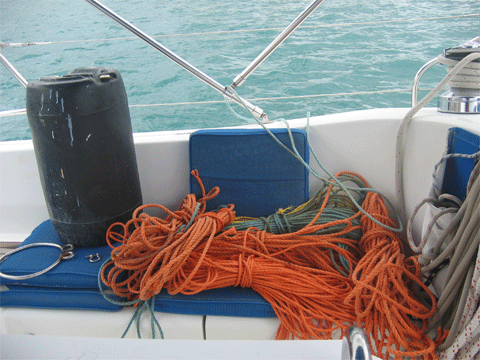 We get back underway, and look at the tracks on the chartplotter. We have drifted a mile or so back towards St. Lucia. Now we are back to sailing to St. Anne. We both sit in the cockpit coiling lines. There is more than 300 yards of line here. We have no idea why it was there, what is was for, what it fell off of, just grateful we weren't motoring and didn't end up strangling the prop. And Lance DID say he wanted to go for a swim.
As we approach St. Anne, I call on the radio for some friends who might be there. They answer, tell us where they are anchored and invite us for cocktails. A couple more boats hear us on the radio and check in. The cruising community is here.
But this is not another journal of fixing things on boats. It is a story about our plans for a trip to Antigua and what we have learned about sailing plans.
click for next column>>
We had taken friends around Saint Lucia and had loose plans for moving relatively quickly up the island chain to get to Antigua in time for the classics races. A couple days before our guests were to leave, we put up the main sail only to hear a pop and see it sink back down again. "The halyard broke!" says I with surprise. Lance is investigating, and pulling down the mainsail. "Did the rest of the halyard fall into the mast?" I ask. "Yep" he says. "Oh good" I reply, with such convincing calm that my non-sailing guests actually believe this is a GOOD thing. We motor sailed with jib up and got up to Rodney Bay in time for our guests to catch their flight. We ran into Don from Cygnus and Lance hauled him up the mast and they fished a new halyard through the mast and got the main working again. We were once again a sailing boat and ready to go but for the fact we were out of water and fuel. A little investigation showed that the tide was so low we could not tie up to the fuel dock until after it was closed. Go back to your reading, we are leaving tomorrow.
The new day dawns. We go over to the yacht club and meet lots of friends we haven't seen for a while and on Monday we get ready to pull up anchor and go over to the fuel dock. Except, the windlass doesn't work. The fuel dock is about to close, so we start searching for the problem: it's the switch. We get it fixed in less than an hour, but it's too late for the fuel dock, we'll have to wait until morning. Back to the reading.
Now, sailing into St. Anne, I feel triumphant. We have found and fixed three problems in 4 days. But the big news is: I'm not freaked out. I'm feeling pretty good. Stuff breaks, we fix it. All in a days cruising. Cruising has changed me. I used to think, if you were doing things right, stuff like this wouldn't happen, things wouldn't break. We must be doing something wrong, or there is something wrong with this boat. Maybe if we had a better boat, a newer boat, this wouldn't happen. Now I know the truth. This happens to everyone who lives on a boat. The people with the better, newer boats just have more stuff to break, more stuff to fix. Even the brand new boats have failures, leaks, problems. That's just the way it is. The real issue is: can you handle it?
We meet some people who can't. They get flipped out, angry, depressed. Of them, we say: "that one will Darwin out."
Now I'm ready for more. Sometimes I wondered if I wanted a better boat, if I wanted solar power and a wind generator, and 12 volt refrigeration, maybe a freezer. And what about a water maker? Those things give you freedom: you don't need to turn on the engine (my boat has engine driven refrigeration, and the batteries need the engine to run in order to recharge as well). You can sit at anchor, make water when you need it, have power without burning fuel, making noise, heating up the boat. Don't need to find the fuel dock for diesel and water. On the other hand, it's more gadgets to break/fix/maintain/carry spare parts for. Its all a trade off and we've made ours at the level at which we are comfortable.
We've learned to stay calm. Fix things in order of priority and take life as it comes. The problems are not earth shattering, but they are important to us without becoming overwhelming. We make seemingly hundreds of decisions everyday and no two days present the same problems or opportunities. Our life on shore seems in comparision to have been run on autopilot. Each day follows the one before in somewhat predictable patterns. Problems and hassels come up, but they seem kind of abstract and long term compared to the ones we face here. Stay aboard. Stay afloat. Feed yourself. Get rid of garbage. The rest is swim a little, snorkel, hike, watch the sun come up or go down. Watch the birds. Read a book. Seems kind of easy once you get the hang of it.