Rigging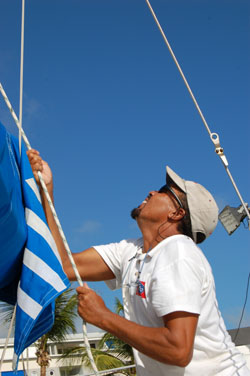 Daniel
We replaced all the standing rigging in Le Marin, Martinique with Caribe Greement. Last year (2005), we decided our rigging had reached the ripe old age of 10 and should be replaced. This notion that you should just replace your rigging at its expected life span - rather than wait until it shows signs of wear was first expressed to me by the Tradewinds Sailing Club owner, Butch. Having a fleet of older boats on the SF Bay, he just replaces rigging on schedule having suffered too many expensive failures under the previous regime of "fix when broken". The lesson was hammered home by a retired materials engineer who had squeezed an extra 10% of life out of his rod rigging by doing regular inspections (including dye and magnaflux). He did not lose the mast when the shroud went but attributes that to luck. Approximately 2/3 of the cost of rigging is into the stainless steel fittings and wire and these guys are so smooth installing it that it would be false economy to "do-it-yourself". They have a well equipped shop in Le Marin that is right on the quay. They can swage your forestay in place by swiveling the swag machine out on its swing arm while your roller furling lies peacefully on felt stretched out along the walkway where it lands when it comes off the boat. Watching Daniel and Erwan work was like watching a ballet. This team has done it all before and they are supported by a full stock of parts and a machine shop. Even though our boat is French, some of the parts are metric and Caribe Greement had both types.
Phillip produced an estimate for the cost of the rigging last year. He came out to the boat in our dinghy and measured everything and produced a written, detailed estimate (in French). We both agreed it would make sense to do the job the following year at the beginning of the season before things got to busy for him. Despite the rise in the cost of stainless steel - Phillip adhered to the estimate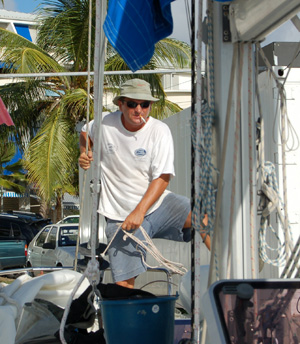 Erwan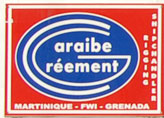 Carib Greement Martinique
Port de Plaisance • BD Allegre • 97290 Le Marin • Martinique
Tel: 05 96 74 80 33 • cgmar@wanadoo.fr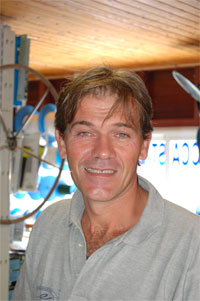 Phillip - Proprietor Carib Greement
Electronics and Electricity

Diginav
Marine Electronics and Electrical
The good people at Diginav have spent far more time than they should looking for little replacement pieces for my old boat. The hardest was the little grain of wheat bulbs that illuminate the instruments. Most places can't be bothered by such little stuff. Its either buy a new radar installation or get outa here. Not Diginav. They carried (in stock) a sender for the knot log that was electronically compatible with the 10 year old instrument and also fit right in the existing through-hull. When It comes time to get radar: go to Diginav. This kind of helpfulness should be encouraged.
Mechanical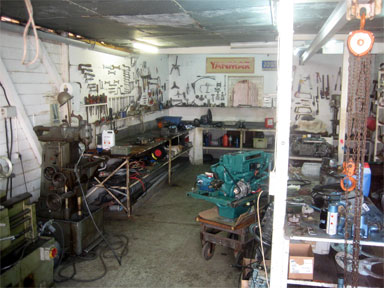 Mechanique Plaisance with our new engine
Mechanique Plaisance has become the place to repower in the caribbean. The crew is excellent and more importantly, they have done it over and over for years. They stock yanmar and volvo engines as well as westerbeake generators. They have all the parts in a large warehouse near the retail store and a fine workshop in the boatyard. Jean Paul and Joel will remove your engine and install the new one in a kind of ballet and their serene demeanor will inspire confidence. Their work was neat, efficient and considerate of our comfort. Patrice, in the retail store, made us a fair price and stuck to it in the face of innumerable difficulties in our installation. The whole job was done in 10 calendar days and we left with a clean, powerful engine with a well matched propellor. These guys are so experienced, well equipped and efficient that your engine will go in cleanly, without drama and at a price you expect.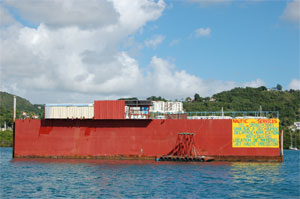 Le Marin
Le Marin is an enormous mangrove swamp at the southern end of Martinique. There are bases for a number of charter companies, a huge expanse of docks and even an enormous floating dry dock. Wages are at European levels but the capital investment is also first world and the efficiencies make up for a lot of the cost. For example, painting is carried out in huge sheds to protect the process. High tech and European workmanship makes it worth while for many jobs. You don't need to worry that some stoned boatyard helper sands right through your gel coat.
Nautic Services
059670745
Haulout• Paint • Bottom stripping
All marine services, including a spectacular sail loft are available here. There is even a used marine parts store where you can spend hours trying to identify odd bits.
Provisioning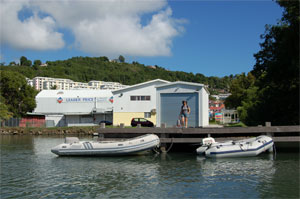 Leader Price Dinghy dock
Leader price is a huge discount grocery store which stocks French foods at reasonable prices. You deposit one Euro in the cart which is returned to you when you roll it back to the dinghy dock (the cart return is visible to the right of Susie). Wine. Cheese. Jams. Bread. Pate. Really good. On the hill to Susie's right is Champion, another giant grocery store, and a small stand producing excellent grilled chicken, whole to go.
Martinique is France; the humblest restaurants are fabulous. Our favorite in Le Marin is "Mouillage" across the street behind customs. Charming. Delicious.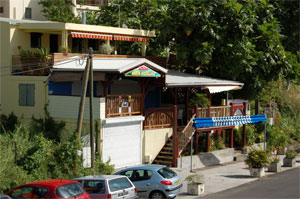 Restaurant Marin Mouillage