The story of the erruption of Mt. Pelee
Interesting story of the erruption and some references for further reading
The anchorage at Ste. Pierre is a fairly narrow ledge which drops off suddenly to great depths just behind your boat. The bay can be rolly under some conditions but you can anchor bow to the beach and throw your stern anchor off the cliff behind you and hold the stern to the waves. The view is spectacular with the old fort and cathedrals particularly dramatically lit at night. The mountian has a number of moods and the big ridge backing the town is shear and draped with jungle vines.
The town is spooky with many hulks remaining from the erruption of Pelee on May 8, 1902. Essentially a very hot pyroclastic flow incinerated the town and most of its 29,000 inhabitants instantly. At. the time, Ste. Pierre was considered the Paris of the Caribbean and the harbor was crowded with ships which burned and sank at anchor before they could get under way. There is a small but interesting museum and a fine placarded walk through town. Not to be missed.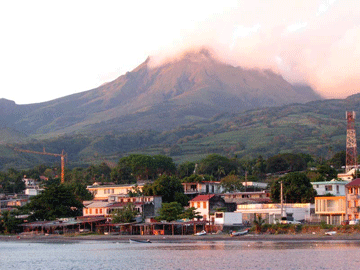 Pelee, the volcano which destroyed Ste. Pierre, Marinique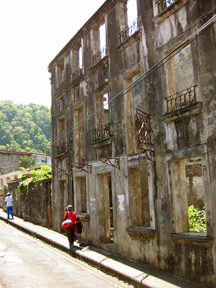 Ruins at Ste. Pierre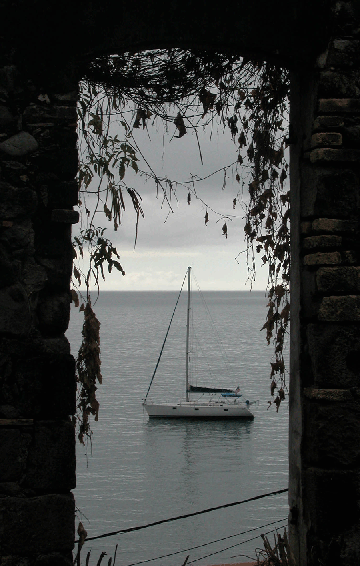 Eaux Vives through the windo of ruins at Ste. Pierre, Martinique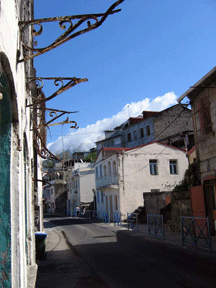 Ruins at Ste. Pierre, Martinique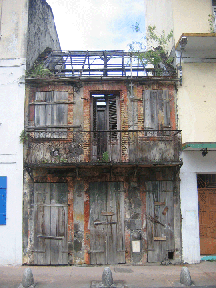 Ruins from the catastrophe in Ste. Pierre Martinique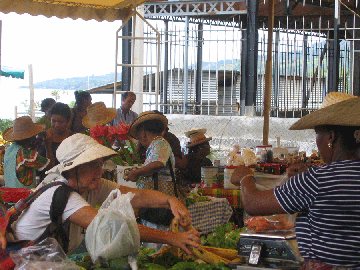 Susie in the market place at Ste. Pierre, Martinique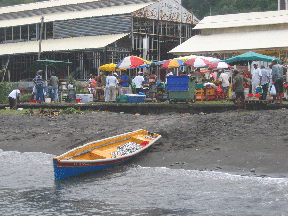 Old market place at Ste. Pierre, Martinique. It has since been restored, but you can still buy fish from the fisherman straight from the boat.