We had some great scuba dives and a refresher course with
Lumba Dive
First dive in 5 years and we got some great
pictures
. Pizza afterwards at Lazy Turtle. Can't be beat.
News from Tyrel Bay
Nothing much happens in Tyrel Bay.The new marina developement up in the mangroves seems finally to be in operation. The actual dock area continues to silt but the retaining walls are quite substantial looking. The pizza place has a new owner but is every bit as good. It is now called "Lazy Turtle". The big ferry is still sitting in the bay and there is always a big barge or two in for work. A new restaurant, Slipways, is on the beach east of the haulout.
A Marine park was established amidst great fanfare. The big change is mooring bouys at Sandy Island (an absurd large number placed too close together) and a sign in Harvey Vale. A fine boat to be used for enforcement disappeared suddenly after it was used to remove fish traps from the mangroves.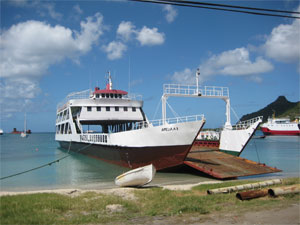 New ferry ready for work on the beach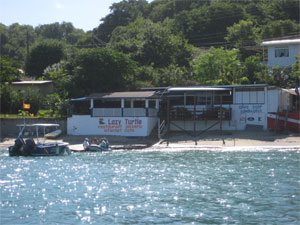 Lazy Turtle: new owner even better pizza
Lumba Dive: great diving around Carriacou
Tyrrel Bay has two moods: sleepy and sleepier. The holding is like velcro if you place your anchor in sand - black ice if you put it in the turtle grass. Very relaxed but everything you really need is here. Free wifi from Tyrell Bay businesses and yachties. .Garbage tip on the left on the road into Hillsborough, water available at Tyrrel Bay Haul Out, wine smuggler, lobster & oyster vendors come to you. Tyrrel Bay Haulout can order boat parts on the ferry from Island Water World in Grenada and Dominque can do anything with metal. A decent canvas shop. Nice walks. Very relaxed.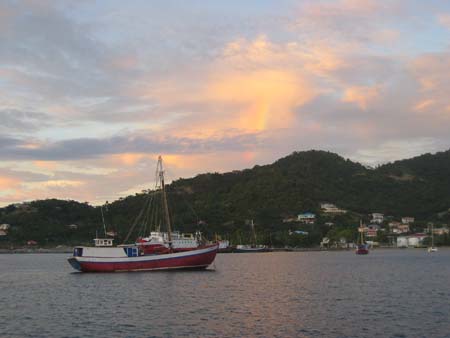 Commercial Dock at Tyrrel Bay with traditional sloop
Carriacou is one of the few places left in the world where you can still watch boats being built with hand tools on the beach. These are large, working boats used for long lining and or cargo. It is really amazing to watch logs being shaped into knees with a chain saw. I asked one builder if he had plans for the boat and he asked me, somewhat puzzled "Why do I need plans? I know what I want." He said it took him and a helper about 6 months to build a boat like the one pictured "if you have the money". Apparently, some of the longer lasting projects are hung up for lack of money for the non-homemade parts.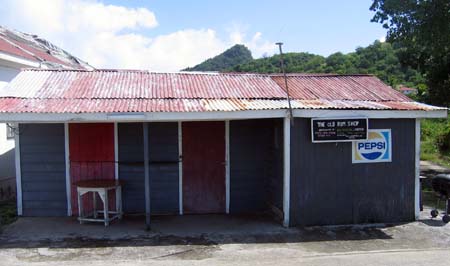 500 Rum shops are reputed to exist on the island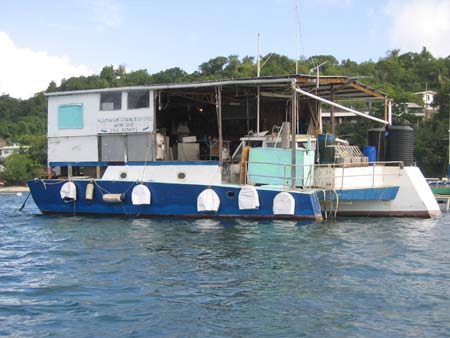 Dominique's Metal Shop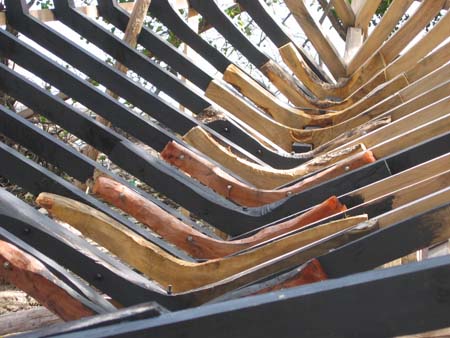 Building traditional boats on the beach, Windward, Carriacou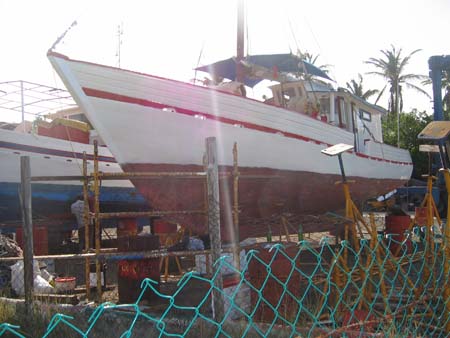 Traditional boat at Tyrrel Bay Haul Out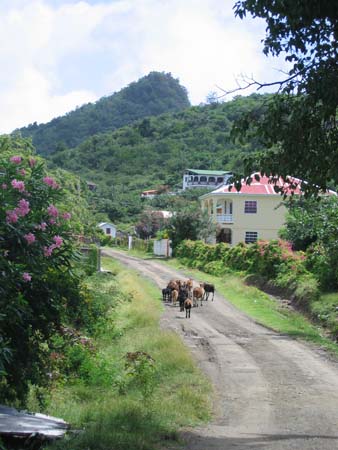 The only busy road is the one running to Hillsborough. People normally park and walk in the street and cars pass politely.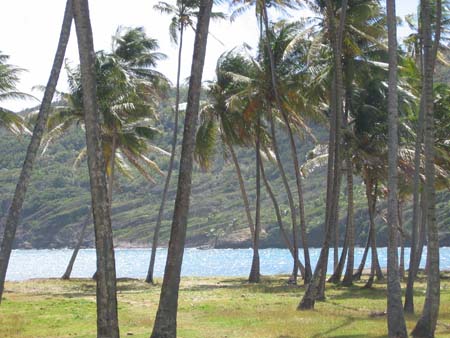 Walking to the point