Martinique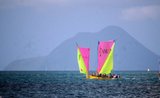 Yoles racing in Martinique


Cruising is not about getting some place (and certainly not about efficiency) . It is more about the people you travel with and the people you meet along the way. We had no goals for this year which is always a desirable state of affairs for cruisers. In this case, our aimlessness allowed us to sail with Tiger Lily II from Martinique to Antigua.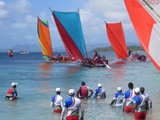 Le Mans start off the beach

Martinique, the first island north from St. Lucia, was the logical meeting place. We could all do our shopping in France and there were already a great number of "Friends of Denis" to make up a minion for an FOD meeting. Denis is famous for his daily weather discussions on the SSB at 7:45 on 4420khz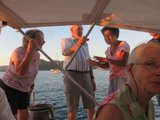 Arleen and Denis welcomes Esther of Cranstackie to Tiger Lily II
Tiger Lily was packed with the captains and crew from Cranstackie, Walkabout, Geode, Saltscar III, Queen Emma and of course, Tiger Lily II. No resolutions were passed but the snacks and wine were.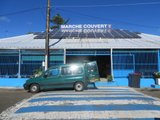 Covered Market in Le Marin, Martinique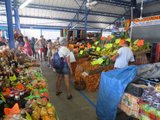 Inside the market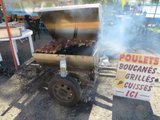 French smoked chicken makes for a fine lunch after a full day of provisioning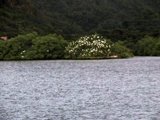 An Egret tree
(Martinique is not without its natural charms)
After filling the bilges with French wine and the refrigerator with French cheese, we set out for parts north. First is a down wind sail almost due West to Diamond rock and then north to Petite Anse d'Arlet. After a little snorkeling and a free clearance from Martinique, we moved on up to Ste. Pierre to leave for Dominique, the Nature Island.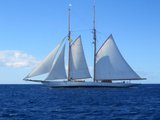 Schooner Gloria spotted on the way to Guadeloupe
Dominica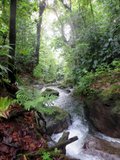 Jacko Falls.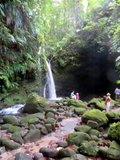 Jacko Falls.
In Dominica we were able to take a tour with our friend Martin of Providence. He recruited Chris Doyle, the author of the sailing guides to the Islands and his partner, Ginnie to come along. We are all familiar to the island and Martin had to come up with a new waterfall to take us to. With 365 rivers flowing over impossibly steep terrain, there is bound to be one or two we have missed. Jacko falls, located almost smack dab in the middle of the island, fit the bill. As it was a Sunday, we packed picnic lunches and enjoyed the company. A lot more driving than walking was done but it was fun getting all the current news as Chris and Martin know everyone on the island.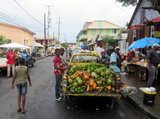 Saturday market in Portsmouth, Dominica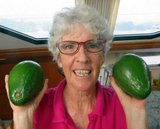 Giant Dominican avocados.
If Martinique is about French wine and cheese, Dominica is about fruits and vegetables. It was raining hard on market day but that didn't seem to slow down the farmers and fisherman. The yachties are another matter. We waited until the rain slowed and thus were very late, probably 9:00. To Dominicans it looked like the dregs; to us, pastures of plenty. As usual we staggered away with about as much as we could carry.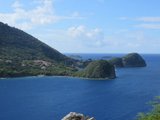 View of Pain de Sucre, Iles des Saintes, Guadeloupe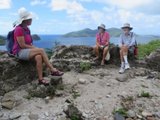 Susie, Denis and Arleen atop Ilet a Cabrit, Guadeloupe
Guadeloupe
A short, fast ride brought us to Iles des Saintes, a cluster of Islands just south of ( and part of) Guadeloupe. We took the new moorings at Ilet a Cabrit. These moorings are a welcome addition to the compact anchorage because anchoring there requires a tremendous amount of cooperation among the boats. The currents flow strongly through it and the winds tumble over the Island resulting in all the boats moving briskly every which way. Every boat will swing to the extent it can in every direction. If just one boat refuses to put out a stern anchor, a huge swath of sea is rendered useless for others.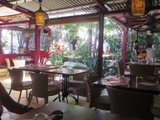 L'Amer, des Haies, Guadeloupe
We thought the moorings would protect us from seaborne doofus but a French boat anchored in front of us because all the moorings were occupied. As we left in the evening for Tiger LIly II, the skipper asked if I thought it was ok. I replied "Not overnight" and thought he and his numerous children would be leaving. At 4:30 the next morning I was disabused of this notion by a loud thump next to my head on the aft port quarter of the hull. some dock rash but we were both lucky to have avoided any serious damage. This sort of thing seems less disconcerting to the French than it is to the Americans as they appear to bump into each other with savoir faire. After apologizing he added a cheery "Welcome to the French West Indies!". Not as satisfying as a good old American shouting match but a good reminder: You must take the Gallic shrug along with the French wine.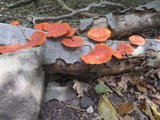 Fungus at Ilet a Cabrit,, Guadeloupe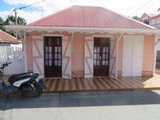 House in the town of Bourg, Iles des Saints, Guadeloupe