We have been cruisers living on dirt for longer than usual this year. This year shoreside life intervened in a big way and seems particularly eventful. The main event was the arrival of our first grandchild. Since the arrival of Lance Julian Ford, our world revolves around him.

Great Aunt Betty & Lance

Leighton and Lance
Hence, this will not be much of a sailing entry.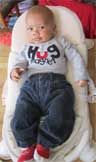 Lance, the hug magnet

Momma Emma and Lance

Uncle Karl and Lance
You have it from a completely unbiased source that he is cute beyond words, strong beyond measure and clearly intelligent to boot. Those who doubt these claims should check out his mom's blog. Lance's mom, Emma Rose Batten-Bowman is an excellent writer and her descriptions are available here (where you can also see more cute pictures of papa Leighton Edmundson Ford with his new son). Furthermore, this is clearly the year for grandchildren. Little Lance will soon be joined by a cousin - an event which is projected for February. We've already booked our tickets. In addition, we are in the midst of preparations for Karl Toyozumi Batten-Bowman's wedding celebration with Yuki Batten-Bowman Toyozumi. Those who have asked how hyphenated-name-children will handle further mergers now have your answer: they work it out. The name of Karl and Yuki's daughter is still under discussion. No worries; little Lance didn't get his moniker until well past the last minute.

Parties at Hillegass House
We attended Lucy and MacKenzie's wedding, Sam and Eleanor's wedding and innumerable parties. Lance-a-little and Lance-a-lot have been on a few camping trips, one of which was a family reunion with my cousins. We also held a memorial service and a scattering of the ashes for my mother, Barbara Jean Batten (nee' Barbara Jean Lance) who died this summer. We took her out on Mostly Harmless, our old shared Newport 41 toward the Golden Gate Bridge and disposed of my mother's and father's ashes on an ebb tide. Our former boat partners kindly arranged to fetch us from BART and help us provision for a weekend sail that included a retirement party for my old boss at the Sailing Club where I used to teach. Nice as it was to get out on the water, life here in the fast lane seems a little overwhelming at times. There is so much stuff, so many people and so many complicated bureaucracies to negotiate. Things move fast and I have completely lost track of the phase of the moon.

Chilly bay sailing with Sarah and Quincy on Mostly Harmless

Getting Hillegass House ready for the celebration
For example, we do our annual health checks here with our original doctors despite lack of insurance in the US. So far, medical, dental, optician exams have only turned up one action item: a root canal which will probably cost over $3000.00 when the bills all come in. This has taken 5 visits: two to an endodontist and three to the dentist. I will happily display my new purchase to all admirers of fine dentistry on request. I don't even begrudge the money - it seems cheap when you want the pain to go away. It just seems an arcane and baffling way to spent big $$. For example, I wanted to get lab work done so my GP would have it before the exam. Being well educated consumers, we had called LabCorp to find out what the lab work would cost. After negotiating the pbx menu and holding for a representative, we were told that we would have to get prices at the local office. On arrival at the usual local office, I discovered they had closed that office. Onward to Hillegass house to look up where they had another office. Cycle over to the new office where I find the same phlebotomist who worked at the original office. As the office slowly filled with hungry caffeine deprived "customers," the phlebotomist, sole occupant of the office, tried to figure out how to charge me (instead of an insurance company) and how much to charge. She ended up calling corporate. She put the call on speaker phone while she searched for a urine cup for me. Occasionally she would sprint back to push a button to advance through the same menu we had negotiated earlier. When an actual person came on the line the answer from HQ was: the customer should call LabCorp. There were two arguments against this: 1. We needed to free up the phone to call the local boss and then the person who worked the weekend to find out where the missing urine cups were hidden. 2. By this time I was about ready to leave my deposit in the phlebotomist's coffee cup.

Son-in-law Leighton, Grandson Lance and daughter-in-law, Yuki
Life on Queen Emma seems so much more tranquil and sensible. We are always aware of the phase of the moon. All long term planning is provisional. Our encounters with bureaucracy are limited to short visits to customs. On occasions when I have had to see the doctor, he performs the service and then collects the charges right away. Prices are written on the wall of the waiting room and receipts are gladly given on request. We get up with the sun and never try to get more than one errand done at a time. Now that we are grandparents, we would like to be in both places at once. Life here is too hectic and intense, life there lacks grandchildren.