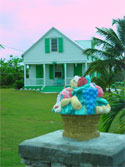 House in Spanish Wells
Too much Spanish Wells
Jogged by an email, it occurred to us today that we had left our loyal following "at sea" about how our trip came out. The short form of the story is that the crew of Kia Orana jumped ship in Spanish Wells, Bahamas and grabbed a cheap flight from Nassau to San Francisco. The long version follows.

Spanish Wells Marine
Chet, at Spanish Wells Marine, had pronounced the forward gear on both outboards shot. Since they were both suffering from the same malady (too many hours in forward gear), our hope that we might combine the two broken engines into one working engine was dashed. We did start to notice that Chet worked on the big engines of his steady customers and got around to our piddling little 9.9 Yamahas only when the rain drove him inside. Progress was very slow:
Sun - Kia Orana hauled in by dinghy from about 10 miles out toward Florida. Rain
Mon - One engine removed and taken to Spanish Wells Marine
Tues - Chet needs to look more at engine. Rain
Wednesday - First engine broken, lets look at second, maybe we can combine engines
Thursday - 2nd engine broken in the same way as first. Parts available from Japan in 3 months
Friday - Dick contacts a fellow PDQ Owner in Florida who has spare engines and he agrees to remove the lower ends and send them over to Eleuthra. Should arrive Monday or Tuesday.
Sat - rain
Sun - rain
Monday - Partly rainy
Tuesday - Engine parts stuck in customs. Need more papers
Wednesday - Engine parts arrive, Chet says he can't get to work on them until Monday.
Thursday - rain
Friday - Chet says 'by the way, Monday is a holiday 'Whit Monday'"

Ron's Seafood: our saviour
At this point Liz caught fire and burst into flames. She went down to Ron's Seafood where the Mercury Outboard mechanic allowed as how he could get the engines repaired that afternoon. Dick walked back to Spanish Wells Marine and Chet allows as how he "might" be able to get to them that afternoon. "Maybe" did not seem a compelling reason not to just move the engines to Ron's - particularly since the first weather window in a month was due to open Monday and close Tuesday. Chet allowed as how maybe his assistant Paul could do it this afternoon. Paul had the first engine working before Liz got back from Ron's. She had had to walk over to thank them for getting the engines fixed without even touching wrench. They just smiled.
De rats dem jus' go

Bohinge - fast ferry to Nassau
The idle crew began to get restive. We had walked around St. George's Cay both directions. We had walked every road on Spanish Wells more than once. We had used as much internet as the budget could stand at $10.00/hr. After Wednesday's setback, Susie was in the internet looking for flights to Dulles from Nassau and enquiring about the ferry to Nassau. Up popped an offer from USAir/United for a flight from Nassau to San Francisco for $238.00 each. If you book now. Only on Wednesday. Any other day and the price is 2 to 3 times that. We took it.

View from our room
The rats were leaving the ship..
We got the engines back in the boat and installed on Saturday. We jugged over fuel and water and prepared to leave. However, the weather was not right for leaving until Monday. When Monday came, Kia Orana shook off the soot from the Ochechobee fires and steamed across the channel to deposit us at the ferry dock. Monday being a holiday, there was an extra ferry to Nassau at 11:30 and by then Kia Orana and its crew were both on their way home (though not in the way we expected)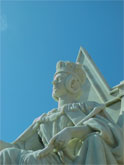 Statue of Queen Victoria
We arrived in Nassau in the early afternoon and hiked across the bridge to where we found a taxi. The driver gave us a little tour while we drove way out to Orange Hill Beach House and where we enoyed airconditioning, Television and a full size bed. We had a couple of days to hike around Nassau and see urban Bahamas. A fine bat cave and beautiful gardens and beaches are the real attractions of Orange Hill, which is most of the way out on the island toward the airport. Cheap busses ran into town and we got to see the fort, museum and eat a fabulous Conch Salad. An ignoble end to our bold voyage but we managed to bear up.

Bat Cavel
Lance & Susie

PS. We had our portable shortwave radio along and were able to listen in as Kia Orana reported back to the other boats in Spanish Wells. The engines failed again (for a new reason this time) and, at last report, Kia Orana was towed into a Florida Marina and was waiting for new engines to come down from Canada and tropical storm Barry to come up from the Gulf.

Susie and Lance