Power to the People!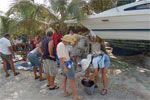 Treasures of the Bilge. Flea Market at Time Out Boatyard

St. Martin seems to have no natives left. The island essentially went broke during the years that export of salt was the only source of income. It is now a giant parking lot for the megayachts and a beach playground for the cruise ships. There are still neat nooks and crannies. Part of it is French, so the eating is good and there are several really cute French beach towns. However, the Dutch side is all business. Fiberglass, welding, diving, rigging, chandleries and a great number of condos for sale, rent or re-sale are the order of the day. The wail of sirens taking deportees back to their country of origin is the national anthem. Sitting in massive traffic jams is the national pastime. It's not a bad place. The seas are a beautiful turquoise and you've got your baguettes. Its just a little too easy to get stuck "taking care of a few things". Its easy to get caught up in a more hectic pace than in the rest of the Caribbean. There are cruisers who've "been taking care of a few things" for years.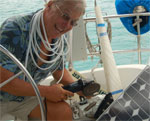 Lance with New Toys
Weird little rubber pieces for your dinghy? Got 'em. Cap for your Lewmar winch? No problem. Replacement for the plastic catch on the cupboards. Got 'em. Get a couple while you're here. Eaux Vives seemed to know. The accumulator tank gave up the ghost and a water hose burst. In St. Martin, an exact match is available and we don't have to get into jungle engineering to paste up some kind of fix. Out with the old, bolt in the new. It is almost too easy. Multiple chandleries, welding shops, boatyards, laundries, bars and restaurants vie for business and so prices are good and availability is spectacular. There is a regular VHF net in the morning at 7:30 offering weather reports, arrivals and departures and - best of all - "treasures of the bilge" on offer cheap. We have managed to purchase 150 watts of solar panels for the price of a lunch and a big wind generator for $375. We have stripped the dinghy davits off the transom and are putting in a stainless steel "radar arch" in its place. We will mount the solar panels on the top of the arch (which spans the width of the boat at the aft end) and a pole is being welded on to mount the wind generator in such a way that it will not cast a shadow on the solar panels.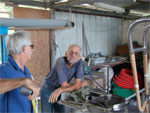 Terry, welder extrordinaire

Eaux Vives is going green!



The Devil's Dinghy...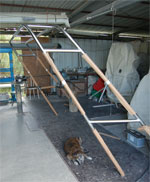 New arch under construction

We have had dinghy davits since the first season and use them for lifting our massively heavy dinghy to drain the water out of it. We have had a love/hate relationship with our dinghy since we got the boat. It seems to constantly require draining of water from between the two halves of its hull. It gets so heavy with the water that it takes on, we are reluctant to land it on shore because it takes at least three people to drag it up on shore high enough above the tide. When we hang it in the davits, it threatens to take the transom apart. Every time we go to a chandlery, we salivate over the new aluminum AB dinghies. They are much lighter than our dingy and are fast and elegant. The problem is that they cost nearly $3000.00 and, at that price, we always decide to patch the dinghy up again for the one more season.

We were once again having this discussion in the Budget Marine, when the salesman said they could fix our old dinghy if we brought it in after the Heinekin regatta when things weren't so busy. We made the appointment and brought the dinghy in by 8:00am as instructed. Budget Marine is a 1/2 hour dinghy ride from where we are anchored so it is a big push. A big bear of a south African started tearing into it with pliers, heat gun and grinder all while fielding constant questions from customers, accounting clerks, salesmen and technicians. Customers, employees or passers by were all greeted with the same great stream of lewd, crude and nearly abusive verbal assault. Git ovah here and put yer fat blek hand riight here. Yeah. That's riigt. The employees were rolling there eyes and laughing and at one point a very proper, distinguished yachtie wearing the shirt of one of the famous megayachts came up to him saying "I didn't know you did dinghies too" and didn't even blink when he replied "and blow jobs too, if yer payin" He wrestled with our poor dinghy from 8:00AM until closing time at 5:00. Cursing. Handling emergencies. Juggling customers. Sending people this way and that. Despite the abuse, he actually seemed to solve people's problems and keep the chandlery moving along in a reasonable way. He sent out for beers around 2:30 when (after a long tussle with a rusty U bolt) he pronounced our dinghy "the divel's dinghy". After all the grinding, fiberglass, glue, rubber and a great deal of sweat and cursing, he had fixed the problem which has plagued us since the day we got the boat. The dinghie's hull is made in two parts with a hollow, floatation space between the two hulls. Our dinghy would fill this space with water and get heavier and lower in the water the longer it was afloat. On the outside, you could only see a couple of small cuts in the rubber near the bow. When the rubber was pulled back, it was clear that the dinghy had suffered a major head on collision and that, besides being crushed, the two hulls had delaminated over the whole bow and it was scooping up water whenever we drove it. We didn't know that this wasn't just normal - everybody hates their dinghy. After the marathon struggle, we paid only $150.00 for the repair!

With all the money we have saved on these bargains we can pay for our new radar arch . On this structure will sit our solar panels and our wind generator. Our dinghy will hang under this frame at night. With all the electricity we will get, we will avoid the daily running of the boat's engine and play with the computer all we want. Its a lifestyle issue.

Lance & Susie
S/V Eaux Vives
Marigot Bay, Saint Martin, FWI