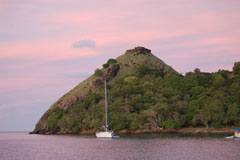 We are in the water! Water is good. Clean. Bug Free.

I am under orders to cut back on the fixing your boat missives, so I will just let you assume that the bottom was painted, the new refrigerator installed, extra battery and alternator added for same, mildew scrubbed, items found in a zillion black plastic bags and put in some semblance of order, sails and running rigging restored and bow roller lengthened by a mysterious anti-entropic force found only in paradise.

However, the boatyard is full of stories: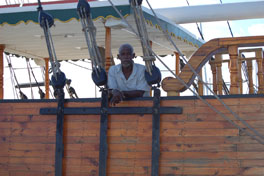 Kaboom, a slight gray-haired gentleman who lives aboard "Lion" a Barquentine built in Dominica has the job of making sure she doesn't sink. This job is complicated by the unfortunate parting of the wooden ribs from the concrete keel. She couldn't get insurance to travel to St. Vincent where there is a haul-out big enough to take her weight. So Kaboom tends her three pumps. Saturday night the one battery they were all tied to gave up the ghost and the fire department was called twice to run big gasoline pumps to keep her afloat. Everybody is giving Kaboom a hard time about doing his job so poorly.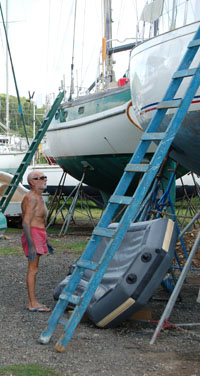 Marcel and Myra aboard "Marc Le Novice" are still dry sailing their boat in the boatyard as they have done every year for many years now. Marcel is too confused to do much more than aimlessly wander around sanding random things. He has completely forgotten English. Myra seems content that he has the feeling of being in a familiar place doing familiar tasks. She reads a lot and sneaks around feeding the boatyard cats. The various boatyard denizens bring them things from time to time and watch out for them. They are 87 and 82 respectively. They climb the 15' ladder and step over the lifelines with great care and grace. The only crisis comes when Customs gets it into its bureaucratic head that they should actually sail this boat in water. Elvis took them out slightly offshore last year and swears never again. I suspect they will work something out.
Artiste who live on his boat,"Krios" next to the trawler, "Sea Star", which his boss bought in Louisiana post-Katrina. He steamed back to St. Lucia on the iffy boat and seems to have gotten it in good enough shape to get regular work carrying Yogurt from Martinique to St. Lucia and Voodoo items to Martinique. Gainful employment. He wants me to take a picture of an imaginary black wife and child to send back to his 92 year old mother in France. He figures the shock may be good for her.
Tantara has kept Elvis busy over the years with a whole series of jobs including jack hammering out all the concrete ballast to sandblast and remove leaking water tanks last year. He's been in the boatyard so long he wears T Shirts with bottom paint brands imprinted. This year's calamity is termites! Termites have been known to reduce new homes to rubble in these parts and render a boat worthless. He's become the object of much mirth and jocularity regarding his immanent launch which should happen "just now".
Diane and Phil are still anchored in their little 32 foot sail boat, Matira, off Jambe du Bois at Pigeon Island. The job at Island Waterworld in St. Thomas has been so repeatedly postponed that it seems increasingly unlikely to ever actually happen. Every morning, Phil rows Diane ashore where she takes the bus to Island Water World, St. Lucia. Venezuela never happened this year.
Larry, a gentleman of advanced age and superior stamina, who was living on and working on his boat Shalom last year has gotten distracted by a number of remunerative side projects. Besides fixing boats he got recruited for a documentary movie about Captain Morgan. The German director was so impressed with his pirate like physique and energy that he made him grow his hair and beard out and help storm the fort on Pigeon Island. Larry spent a month hiking around in bare feet so he could run up to the fort, barefoot in 85 degree heat carrying a ladder to scale the walls. There were 10 takes. Larry said it was "interesting" and some of those playing the British soldiers collapsed from the heat.
Foxy John has a VHF radio again after he dropped his in the bilge last year. He has a fine large garden this year.
Shane, the fuel dock worker was not rehired after the second time he got shot. Twice was deemed excessive and unlikely to occur to the totally innocent.
The famous patrol boat donated by Rodney Bay Marina to increase security still seems not to actually move. It looks very official tied up by the fuel dock though. The only visible change seems to be that it now has an official looking blue light on top of the bimini.
Life goes on.... Ed Lyons was asking which transition was harder: to or from the boat. Now that we've had a couple of days on the water, the answer is easy. Island time suits us fine.
Lance