This is another one of those fixing-your-boat missives. For those who wish to avoid the bloody details: We are fine. We are having fun. It is beautiful. Wish you were here.
For the rest of you: we managed to get our boat out of the boatyard and into the water between Thursday morning and Monday morning. Elvis had completed repairs to our cracked rib while we were gone. To launch, we needed only to get the new shaft seal on, remove the rudder and tighten the rudder bearing., undo our hurricane preparations, sand and paint the bottom, scrub everything (including every inside surface) and put our things away. As a list, it doesn't seem too bad.
The rib repair took over 8 gallons of resin and involved grinding fiberglass inside the boat. The repair is beautiful and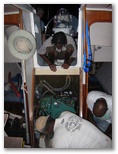 Elvis did his best to get the interior well cleaned up but the ports had not been completely dogged and there was a great deal of tropical schmutz everywhere. It seemed that every scrubbing unleashed a new torrent of mold and only by repeated scrubbing were we able to get things reasonably bearable. We had scraped the barnacles off the bottom before we left last year and the sanding only took about 5 hours of which I was able to undertake two and hired a Rasta to do the final three. I'm not strong enough to hold the sander up in the air for longer than that and not stoned enough to want to try. The rudder had been repaired before in Virgin Gorda but we noticed it was loose when we hauled out. The bearing at the bottom had opened up under pressure and Elvis was able to remove it, file it a little smaller and weld it closed again. It feels like silk now. The last minute item (estimated time 1/2 hour) was the shaft seal. This is a kind of rubber boot which goes around the prop shaft and keeps the ocean out. To replace it, you must remove the prop shaft and flange and slide the grease filled boot over the shaft and clamp it to the propeller tube. One bolt holding the prop to the flange split and we had to weld a nut to the remaining stub to get it off. Elvis was in the boat until 9:00p.m. the day before launch and the thing was still not put together. I had finished the bottom painting Sunday evening and bright and early Monday Elvis was back. We were able to switch launch dates with the 10:30 boat and I was able to finish the painting and Elvis finished the boot install in time for the actual launch. Fortunately, no leaks.
Part of the reason for the most un-Caribbean like pressure was the date we had with the Atlantic Rally for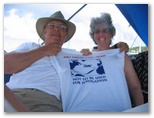 Cruisers. We volunteered to be the finish line for a 24 hour stint starting Wednesday at 11 and the previous finishers were coming off a 48 hour shift and were counting on us for relief. All was done in time and a great time was had by all. There is a kind of contact high from cheering, blowing the horn and general hooraying a boat across the finish that has just come 3,000 miles across the ocean. We finished 7 boats of which 3 tried to sneak (sleep deprivation? excitement?) in with late or no radio contact. We were nervous enough about missing someone that we spent most of the time watching Pigeon Island for possible stealth ARC finishers.
Our reward was a sunset cruise down to Marigot Bay with open bar and really bad Euro-pop dance music. We were also invited to the award ceremony, got our picture taken and were given a great book about St. Lucian people. We spent a great deal of time chatting with a disabled member of the crew of a boat sponsored by the British Limbless Ex-Servicemen's Association. His leg was shot off in Iraq and the prothesis worked well when liberally dosed with WD-40. Charming bunch of people and a great array of prizes were awarded. My personal favorites were: biggest fish ( a 75Kg marlin), youngest to cross (age 2), best garden featuring basil grown underway and the DFL award to a crew whose T-shirts sported the slogan: "sailing is like sex, its best to come last".
We are presently at anchor in the Rodney Bay lagoon. We are waiting for our new improved and hopefully much lighter transom and for a pro to fix our slow dinghy leak which has been plaguing us for years now. Next stop: Martinique for provisioning and, Poseidon willing, a trip down to Bequia for Christmas.