Fiberglass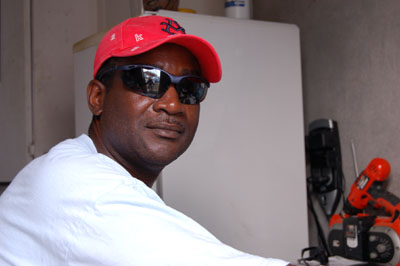 Elvis Michaud
Elvis is gifted at structural fiberglass repair. He is the man all on the island call on if something is seriously awry on your boat. He knows and really understands all of the things that can go wrong with fiberglass and other advanced composites and has enough experience to figure out the best approach to repairs. He fairs, paints, and repairs just about anything in true Island style. If it isn't dead, Elvis will fix it. He's honest, sweet and good humored. Elvis and his team have fixed every thing on Eaux Vives from the transom seat to major problems with the structural members in the hull. He stripped and sealed the hull and keel and rebuilt the refrigerator. He has found and fixed the results of Eaux Vives' unfortunate encounter with a rock in the Pitons. All with good humor, professional communication and a clear explanation of the options, nature of the fix and photo documentation. Call on Dr. Elvis when things go wrong.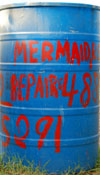 Mermaid Repairs
Boat Repairs • Fiberglass Repairs • Engine Maintenance • Awlgrip Specialists
Tel: 748 488 5291 • mermaid_repairs@hotmail.com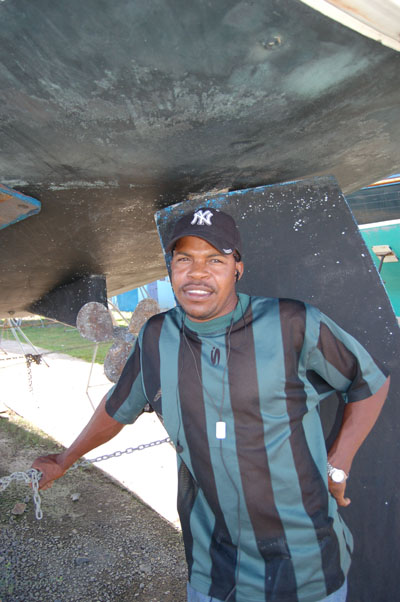 Kelly Charles
Mirror Finish Painting • Varnishing • Finish Fiberglassing
Cell 758 715 3369 • kellyboa@hotmail.com
Kelly is the young buck giving Elvis a run for his money in the area of fiberglass finishing and Awlgrip painting. He's a fine, hardworking man who works to please. We've not had the money for painting, but I've watched a number of jobs Kelly has done and he looks like he's bringing boats back from the dead (or at least, back from the wars)
Electronics and Electricity and Engine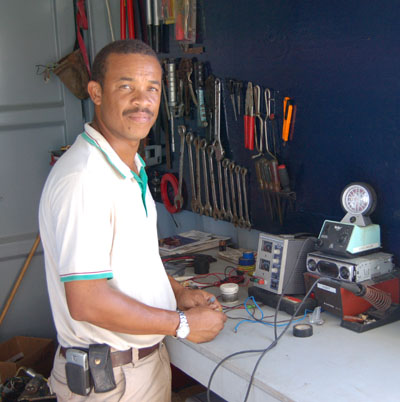 Egbert Charles
Egbert has spent this winter building a fabulous shop. He is well organized and knowledgeable. He is a dealer for Northstar generators, Volvo engines and Newmar chargers. Since Eaux Vives independently came to the conclusion that these were the appropriate brands for us (except the generator), calling on Egbert was a matter of course. He recognized right off that our old generator was not suitable for the Volvo Penta Engine (which does not have a grounded block) and arranged to get us a new alternator. It now sits proudly in place of the compressor for the old engine driven refrigerator. He wired up the refrigerator and we now have ice! Limeade aboard Eaux Vives. Regular milk (not UHT) Livin' large thanks to Egbert..
Egbert's investment in his diagnostic tools and relationships with the major vendors will serve you well when it comes time to service your boat. These relationships consist of more than just a sticker in the window - Egbert has factory training, diagnostic tools and equipment plus access to parts. For us, just getting part numbers for our Volvo has been a nightmare back in the States - Egbert has on-line documentation and search facilities and computerized diagnostic tools. He's also a sailor with many years of experience as skipper: ask him about sailing with royalty.
Wood Working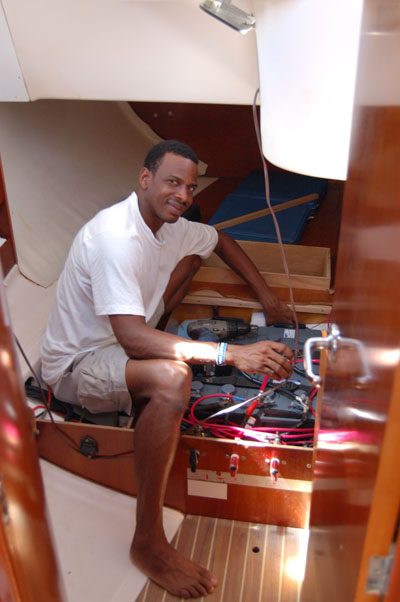 Pride

Pride both removed and restored most of Eaux Vives' galley while we were gone over the summer. Since the boat appears to have been built around the galley, this is no mean feat. Elvis called on Pride to rebuild much of the interior of his own boat which had been rescued from the bottom of the sea. The new interior is spectacular. . I hope to get some pictures of that work soon.

In the picture at left, Pride is installing a battery box in the former starboard aft cabin, now known as the "garage" on a permanent basis. A pleasure to work with, Pride will treat you to the fine yacht interior you deserve.

Pride
Cell: 758 284-7948
Fine yacht interiors

Metal Working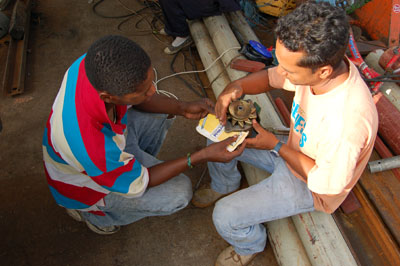 China Man Lawrence

China "Lawrence" and his band of angels can make anything you need out of metal. He's done the fine brass work for Manatee and extended the bow roller for Eaux Vives. He got called into the project for building a rather wildly shaped mounting bracket for our new alternator. His shop has laths, mills, welding equipment for aluminum, stainless & pretty much anything that doesn't burn. At right he is showing his apprentice how to measure the curve in the bracket for our alternator. China can weld up huge storage stands and boat trailers to small fittings and brackets. His shop is a cavernous treasure store of tools, machinery and possible parts and raw materials. Visit the workshop if only for the show!

ARC Dynamic Work ship
Gros Islet St. Lucia
Tel: 758 384 0665
China Man Lawrence
Stainless Steel • Aluminum • Welding • Fabrication •Construction

Chandlery
Ian Cowen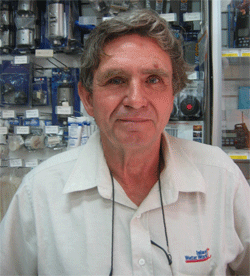 Ian Cowan

Ian Cowan is in serious contention for the prize for nicest man in the Caribbean. He manages the Island Water World in Saint Lucia but that is just the day job. His real passion is helping the sailors who call on Rodney Bay. He is a skilled raconteur, a solver of problems and a dogged locator of parts, either new (through his world wide web of contacts), used or fabricated from his huge supply of boat bits which are stashed (to his wife's dismay) all over. Ian has rescued Eaux Vives innumerable times. My personal favorite is wandering about in the cavernous hot box of an attic next door rummaging through old pieces of rod rigging for just the stainless steel fitting which could be pressed into use as a bushing to make the old block fit on the new traveler cart. He sent us trotting off to China with the piece in hand at no profit to himself but in Karma. It has performed flawlessly for years now. Buy stuff from Ian. He is a regional treasure and must be supported.

Ian Cowan
Island Water World
P.O. Box 928 Castries, St. Lucia W.I.
IWWSL.LTD@CANDW.LC
Tel: 758 452 1222 Fax: 758 452 4333
Problems solved, odd bits found, stories told

Boatyard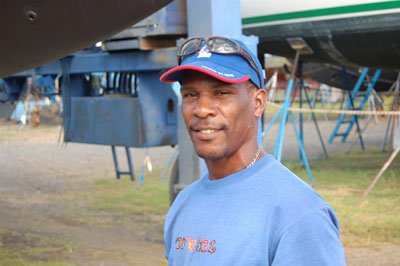 Ricky

Ricky is the travelift operator and functionaly the boatyard manager. He is one of the few travellift operators we have ever met who is not permanently in a foul mood. He manages to keep the travellift operating, boatyard and boats safe and manages the wealth of personalities that make up the place. Yacht rats and boatyard workers alike look to Ricky to make it happen. He is not upper management. Your official contacts are given below. But Ricky and his co-workers are why Eaux Vives stays in Saint Lucia.

Provisioning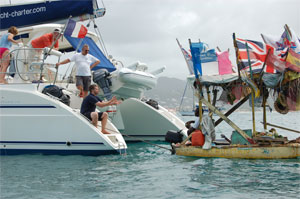 Gregory

Gregory is always around with his everchanging collections of flags. He is reasonable about his prices and actually knows the meaning of the word "No" (not always the case with boat vendors). We have also purchased fruit repeatedly from "Come Back" who comes up all the way from Marigot and is not always in Rodney Bay.

Gregory
Boat with the Flags
Somewhere in Rodney Bay , St. Lucia W.I.
fruits, vegetables and occasional hats

More conventional food distribution is available from JQ Mall. There is a dinghy dock at the southwest corner of the inner lagoon. Turn left after exiting the long alley and enter either of the two shopping malls on your right and left.. Both malls have well stocked, airconditioned general grocery store. The only notion it is "Island" comes from the occasional disappearance of rather common items for weeks or months at a time.We prefer JQ's(on your left) as they have local produce and better prices. There are smaller grocery stores in the Rodney Bay Marina and across the street behind Johnson's Hardware. The open market in Castries is huge and will get you the best prices and selection on local produce. The last couple of years have seen the introduction of a wonderful Saturday morning farmers market on the lawn in front of Island Water World.