Southern Antigua, specifically Falmouth and English Harbors are the center of yachting for the island. This is not because they are well stocked with chandleries and boatyards (they have a few) but because they are packed with sailors sailing. For many of the big megayachts or the lovely classic yachts, this is the winter home. English Harbor is separated from Falmouth Harbor by a narrow, walkable strip of land. The former is incredibly historic and picturesque and the latter has much better holding and more room. English Harbor served as a hurricane shelter and refit center for the British fleet in the 1700's and was once commanded by Lord Nelson before he was famous. It is the only Georgian shipyard still largely intact and still largely serving as a shipyard left in the world. The hurricane chain stretched across the harbor and secured to an enormous fisherman's anchor on the beach once held the ships of the British navy. The anchorage is surrounded by protecting forts (Fort Berkeley and Fort Shirley) and the stone quay and the old buildings of the Dockyard have been restored and seem to be doing a lively business. Falmouth is packed with megayachts and cruisers alike and has a great grocery store, italian ices and coffee and lots of internet cafes.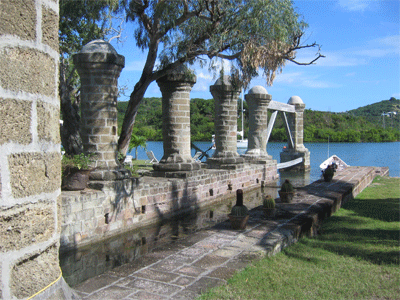 Pillars of the old sail loft at Nelson's dockyard, English Harbor, Antigua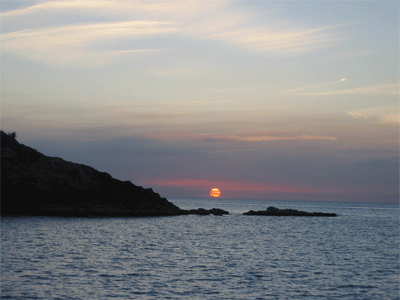 Sunset from the anchorage at English Harbor, Antigua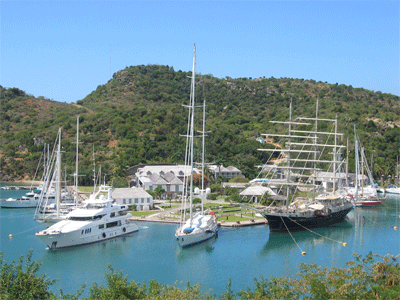 Nelson's Dockyard at English Harbor, Antigua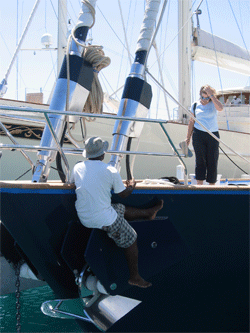 Hydraulic furlers and stainless steel anchors need polishing.
Notice how big these furlers are. The hydraulic drum is larger than the polisher's head.
Another real prestige item is having red aircraft obstruction lights at the masthead to warn low flying airplanes. We've counted up to 20 of these megamasts in Falmouth harbor at one time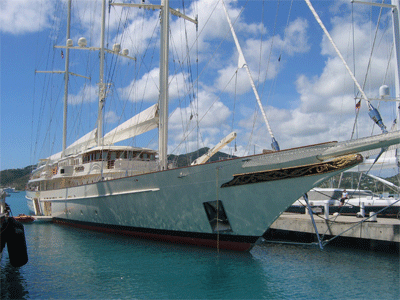 292' S/V Athena, world's largest privately owned gaff-rigged schooner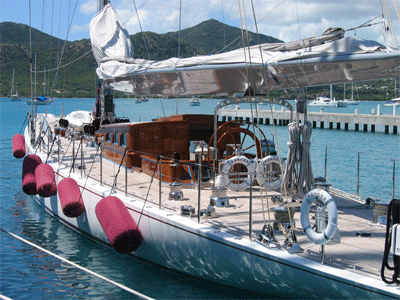 S/V Ranger, high tech "in the spirit of tradition" of the J-C;lass
Among the quaint folkways of the megayacht crowd is the gleefull horn based salute when one of the recognized yachts leaves the harbor for the season.