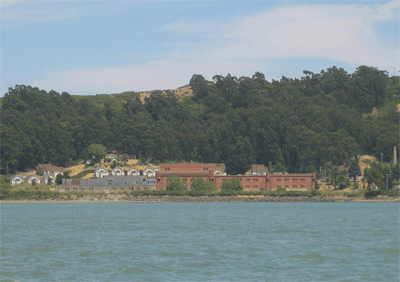 The 1906 San Francisco earthquake destroyed the California Wine Association winery located in the city. They decided to move to Richmond because there they had easier connections with the San Joaquin Valley grape growers by both rail and by water. This somewhat Gothic looking castle, with medieval turrets and crenellated battlements, was built in 1907 of reinforced concrete. Between 1908 and 1917 many little bungalows were built to house workers. At the peak of the season, 400 workers were required some of whom lived on a large ferry in the bay. Winehaven held the title of "world's largest winery" with shipments to foreign, coastal and New York markets sailing from the Winehaven dock. Capacity was 500,000 gallons a month, and 40 ships sailed annually for New York alone There was a large craftsman style hotel (which burned in the 1960's) and the whole area seems to have been a tourist attraction. Prohibition attracted just one vote in the city of Richmond but carried the nation and the winery held on producing a small trickle of sacramental wine until it closed in the 1930's.
The navy acquired the 412-acre site in 1941, moved into the winery buildings, and constructed 20 large concrete tanks on the hillsides above for a fuel depot. They replaced the old Winehaven dock with a new dock and ran pipelines for fueling and loading ships. The old hotel and workers housing was largely just repaired and used for military housing. The Navy continued to operate the fuel depot during the Korean War and Vietnam War until it was decommissioned in 1995. More information here.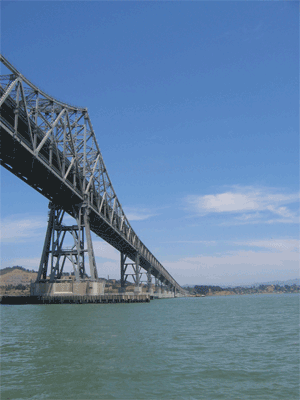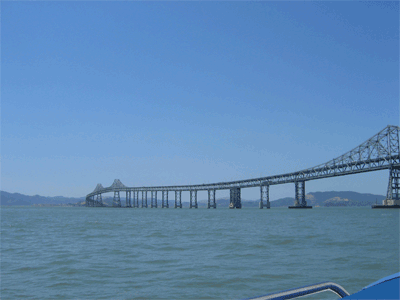 The Richmond San Rafael Bridge measures 5.5 miles long and opened in 1956. At the time it was built, it was one of the world's longest bridges. It is officially named the John F. McCarthy Memorial Bridge. Construction was financed by the sale of $62 million in revenue bonds, along with a loan of $4.68 million from the State School Land Fund. The bridge was finished $4 million under budget. This bridge is seriously ugly due to its undulations which were designed to minimize earthquake strains in areas that did not have to be raised to allow ships to pass. It was also relatively cheap. The two stories I heard as are both apparently untrue: 1. They aimed for Red Rock Island and missed (bolstered by its wandering path) and 2. They dipped up and down to save steel. Despite its looks, it is apparently fairly sturdy as it has been hit by ships several times. Vertical clearance is 185' Take a look as some of the opening day hoopla here.
At the eastern end are Castro Rocks (just a little to small to be called islands) which are a haul out space and breeding grounds for the harbor seal. They were a serious concern when the earthquake retro fit was undertaken 2001.
Red Rock Island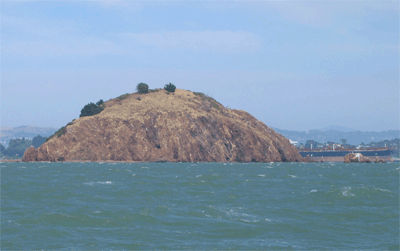 At the peak of Red Rock Island, it is possible to stand in the City and County of San Francisco, the City of Richmond, the County of Contra Costa, and the County of Marin. The exact spot is marked by a survey marker. The island was first used as a campsite by Russian and Aleut sea otter fur hunters according to accounts dating to 1812. Capt. Frederick W. Beechey of the Royal British Navy was the first to indicate the island on a map when he charted the upper reaches of the bay in 1826 and 1827. He labeled it "Molate Island," apparently a misspelling of the Spanish name for the island "Moleta, (an instrument used in grinding of paint). This may have been a reference to the use of the red rocks of the island which are composed of manganese. These rocks were used as ballast by Norwegian and Swedish sailors who discovered that at home, their ballast was valuable for its use in producing paint.
It has apparently only been inhabited by one man, Selim F. Woodworth who lived there between 1851 and 1856. He wanted to claim it under the homestead act but was stymied by the U.S. Land Office Registrar who felt that the Government might want the island for a lighthouse or for defense. There are no records of any ships going aground here and so Warren Harding offered for sale at a cost of $1.25/acre to no takers. In 1916, a detective hot on a search for a cache of weapons and explosives allegedly hidden on the island by the local anarchist, Tom Mooney , came upon the old mines. Apparently somewhat distracted from the search, he filed a mining claim and cleaned out the old tunnels. Aside from the old mining tunnels, it has remained largely unchanged. from the earliest times. It is currently being offered for sale: click here for more information. $10,000,000 (if you have to ask....)
East Brother Island Lighthouse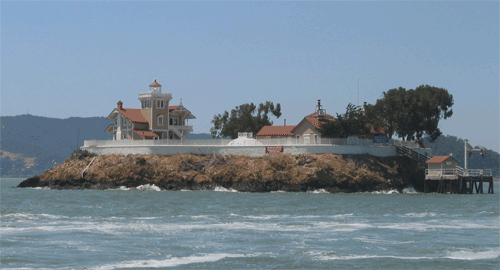 in July 1871, Congress appropriated $20,000 for construction of a lighthouse and fog signal to replace an anchored marker buoy over Invincible Rock (about 1/2 mile southwest of The Brothers). Foiled in their attempts to purchase land on Point San Pablo due to protracted litigation by private owners, the Government decided to built on East Brother Island, which they already owned.By fall of 1873 the foundation was in place and the light went into operation in March of 1874 but it took until April 9 to buy and transport enough water to start the steam driven fog horn. The Coast Guard automated the light and foghorn in 1969. In 1981, Bay Area residents formed a nonprofit to renovate the lighthouse as an inn. For further information click here.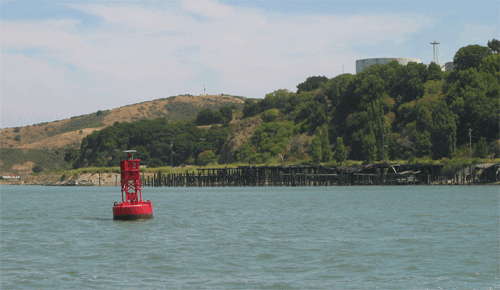 One of the two last whaling stations in America was active until 1971. It was opened in 1956 by Del Monte and was manned by a crew of 40 men. They boasted that they could reduce a humpback whale to oil, poultry meal, and pet food in an hour and a half. The stations boats hauled in an average of 175 finbacks, humpbacks and sperm whales a year and reduced them to pet and poultry food.The skeletal remains were dropped off the edge for bottom feeders to eat.