Saline Bay, Martinique
Thanksgiving was celebrated by the crew of Eaux Vives in St. Lucia, West Indies. We had jerk chicken from the barbeque on the aft rail, mashed sweet potatoes, pumpkin soup, salad, French wine and Susie's famous brownies for desert. An impressive spread from a small boat's galley. Crew present included the entire B-B clan: Susie and Lance joined by Karl and Emma courtesy of Google frequent flier miles. We had a fine sail up to Martinique (laying Ste. Anne on one tack) and a better sail back (an even faster reach from Forte de France). All crew were by then accustomed to the boat and no longer digestively challenged.

Sailor's shower

Triple dinghy dive
As is traditional, we enumerated the things we find ourselves thankful for. High on everyone's list was our presence on a boat in the Caribbean, together for Thanksgiving, and all in good health. Particular emphasis given the good health. It has not been an easy year for your intrepid travelors. We have a new president. Those of us wishing to work have meaningful jobs. Those of us wishing to sail have a boat in the Caribbean. Life is good.

Mud surfing en route to Saline Bay
Much of happiness is a question of perspective and personality. Some offspring might think that their entire holiday spent in cramped quarters with their parents was pretty much hell on keels. Some might think alternately sleeping in the salon on a narrow bench with a "cabin" berth about the size of a phone booth laid on its side a bit much. No privacy. No TV. A taste of boat disasters: a clogged head, some rainy days, a touch of the old mal de mer. Everyone sports some "boat dings", bruises we collect on re-entering the boating life after a long period ashore. After a while, you learn to duck, step high and climb carefully as appropriate. Until then, you collect reminders of cleats, bulkheads and ladders to be negotiated. This is not the image conjured up by the phrase "my parents' yacht in the Caribbean."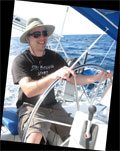 Skipper Karl B-B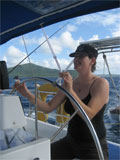 Skipper Emma B-B
Yet we are all remarkably content. Not just a Thanksgiving tryptophane high, but a real pleasure in each other's company. The B-B's seem to be natural sailors. Perhaps it is in our genetic memory; the names seem nautical enough. More likely it is because we like to to see the stars in the evening. We like to swim where the water is ao soft and warm. We spent the day hiking muddy paths in the pouring rain watching the land crabs watching us and laughing about mud surfing. We spent a day perched on a bouncing, listing boat, eating bananas and peanut butter and shreaking at the occasional spray. Not everyone's idea of pleasure, but we enjoyed ourselves. Its not about the sailing but the pleasure of each other's company. Sailing is no more about getting somewhere than fishing is about getting fish.

What did we do for Thanksgiving? We played a little dominoes, told a few stories and we read a lot. We fixed the head and we snorkeled. We cooked, cleaned up and we toasted the sunset. Venus and Jupiter lay close above the moon..

Susie & Karl B-B

Lance and Emma B-B
It was a great Thanksgiving