The Saintes are a charming bit of Brittany somehow plunked down in the Caribbean. These little islands were too small for sugar plantations and the attendant slavery, so fisherman and their descendents dominate the islands. The major places to anchor are: the Bourg des Saintes (the main town), behind Pain a Sucre and over by "Ilet Cabrit". Most of these anchorages are now taken up by mooring balls - just as well as the anchorages are deeper than most have enough rode for. There is a strong current which runs through Ilse Cabrit and your anchor will come a knocking if you don't cinch it up pretty tight. The Bourg is a beautiful beach town with a great number of fine restaurants. Not to be missed is the panini and the bulk wine and beer store which delivers to the dinghy dock. Take a walk up the hill to the fort and examine all the exhibits, but do it early in the morning as it can be a warm trek up the hill. The only disadvantage of this lovely place is the ubiquitous motor bikes which can be annoying at night.
It is for these islands that the famous "Battle of the Saintes" in which the British most daringly "broke the line" of the French fleet. There is a very clear and detailed explaination of all this in the museum in the fort above Bourg. The French lost. They got Guadaloupe and Martinique. The British won. They basically only hold the BVI now. Go figure.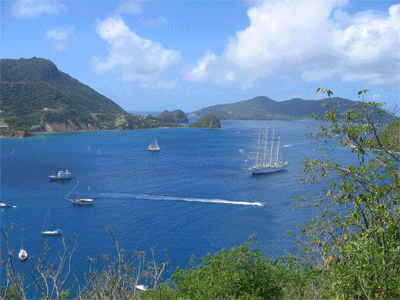 Picture of Pan A Sucre from Ilet Cabrit, Iles des Saintes, Guadeloupe
Ilet Cabrit is a small island opposite the Bourg with the ruins of an old fort and ruins of a newer hotel and a lot of (surprise) goats. The anchorage is a narrow little shelf behind the island on the southwest side. It offers beautiful snorkeling in crystal clear waters and nice walks to the fine old ruins and a great view from the fort at the top of the hill. Very few people walk up the narrow road to the hill top and you usually have it to yourself. The shore line southwest of the beach out to the point makes a spectacular snorkeling area accessable from the boat.
Pain a Sucre is a deep (30' +) anchorage in which you can usually see your anchor clearly on the bottom. Great snorkeling and a lively beach scene without the noise of the town.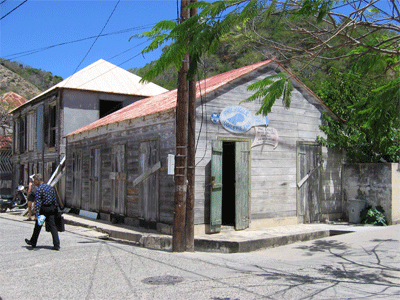 Street scene in Bourg at Iles des Saintes, Guadeloupe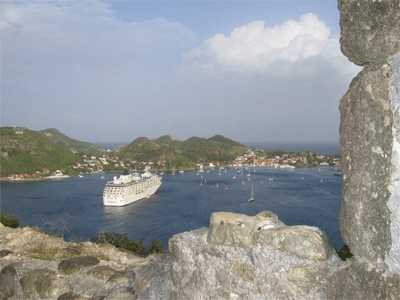 Bourg, Iles des Saintes, Guadeloupe from the fort on Ilet Cabrit.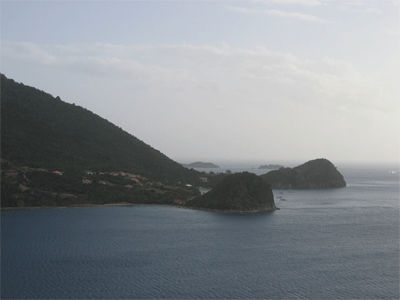 Pain A Sucre, Iles des Saintes, Guadeloupe is the hill in the foreground. Behind it is a very nice anchorage and the snorkeling around its base is spectacular.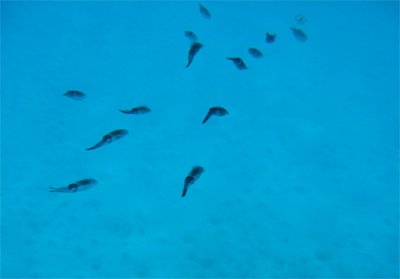 Squid at Ilet Cabrit, Iles des Saintes, Guadeloupe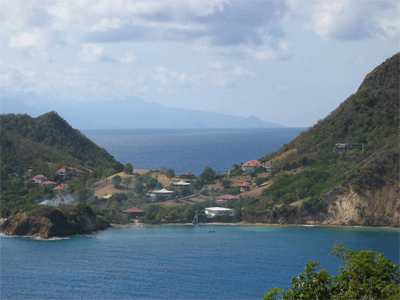 Dominica in the background behind Terre den Haut, Iles des Saintes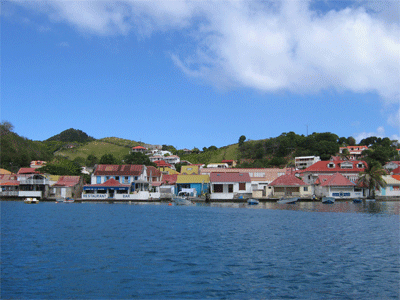 Bourg des Saintes, Iles des Saintes, Guadeloupe